Recent data leave me significantly more bearish than I was a month ago.
But the home sales data as of yesterday looked good, you say, or at least "not unambiguously bad"? True, existing home sales rose a seasonally adjusted 3% in January, to the highest level in 7 months. Dave further notes that futures market forecasts of home prices have been becoming less bearish. But the January new home sales numbers released today by the Census Bureau do look unambiguously bad to me. Seasonally adjusted new home sales fell 16.6% in the month of January alone, enough to completely wipe out this fall's gains and put us back below the previous low set last July.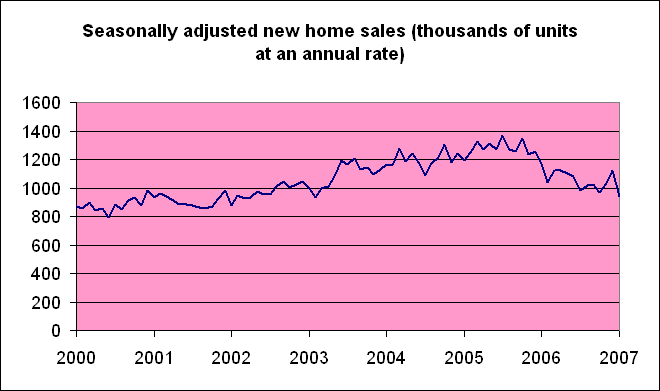 My index of the stance of monetary policy provides a quick summary of the implications of recent monetary policy decisions for new home sales. A positive value indicates that today's new home sales should be higher as a result of the Fed being less contractionary than the market had been anticipating, while a negative value signals that the Fed has on balance surprised the market by being more contractionary than anticipated. The Fed's decision to stop raising rates helped bring mortgage rates down last summer, which accounts for the net stimulus recorded by this series for November and December. That stimulus is one factor that led me to predict that new home sales would rebound from the bottom reached last summer. Up until today's release, that prediction had proven right on target.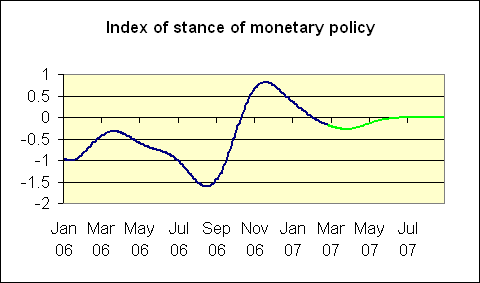 We did indeed receive a stimulus from those mortgage drops, and I think that's why home sales did rebound this fall. Unfortunately, according to my index, the stimulus from last summer's drop in mortgage rates had disappeared by the beginning of February, and the index in fact is now once again back into negative territory. The green line in the figure above is the projection of where this index will head from here if the Fed behaves as currently anticipated by the fed funds futures markets. Thus, further gains in home sales from here would seem to depend on factors other than interest rates.
And those factors don't look very favorable to me. For example: (1) As more subprime mortgages go into default fewer such loans will be extended by lenders or desired by borrowers, both of which mean lower demand for homes. (2) The employment consequences of the decline we've already seen in new home starts has not yet shown up, but is just about to begin. (3) Consequences of declining home construction for sales of home appliances are also just beginning to set in.
As Menzie noted yesterday, we also received several other indicators this last week that suggest that outside of housing, the U.S. economy has taken a sharp turn for the worse. Industrial production fell to a 6-month low in January, which concerns me greatly. Everybody's talking about yesterday's report from the Commerce Department that new orders for manufactured durable goods fell nearly 8% in January. That's the fifth biggest decline for this series since 1992, with two of the other worst four months appearing just before the 2001 recession:



Also disturbing to both Menzie and me is the fact that new orders for nondefense capital goods (excluding aircraft) were down 6%, which is another unusually sharp drop:
To top it all off, gasoline prices have been climbing back up. In part this is the usual seasonal result of the transition to summer fuel requirements, and in part it's the result of the fact that crude oil prices have risen significantly over the last month. But whatever the cause, the run-up in gasoline prices is unlikely to make American consumers feel more optimistic.



And let's not overlook that unmistakably ursine growl from world equity markets yesterday.
S&P500 Feb 26-28. Source: ino.com

>
---
Technorati Tags: macroeconomics,
housing,
Federal Reserve,
recession