Overshadowed by the euphoria over
Bernanke's testimony last week was news that the Federal Reserve Board's

index of industrial production fell

one-half percent in January.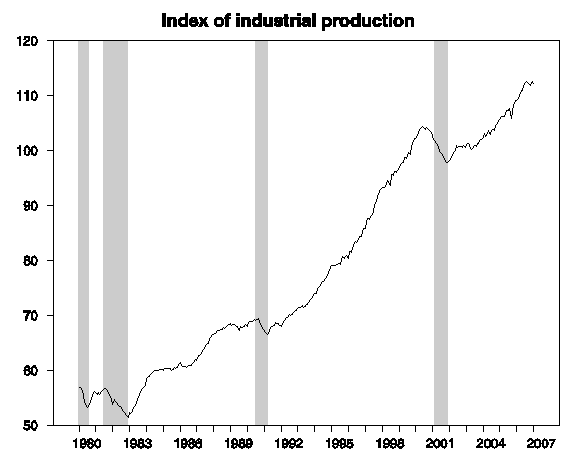 That by itself is not that unusual. What makes it noteworthy is that this Fed index has been languishing for a while, and is now below its value of six months ago. That, too, can sometimes be benign. We saw a 6-month low in September 2005 after Hurricane Katrina, and in the anemic recovery of 2003. But a 6-month-decline in the index is something that is often associated with the early stages of an economic recession.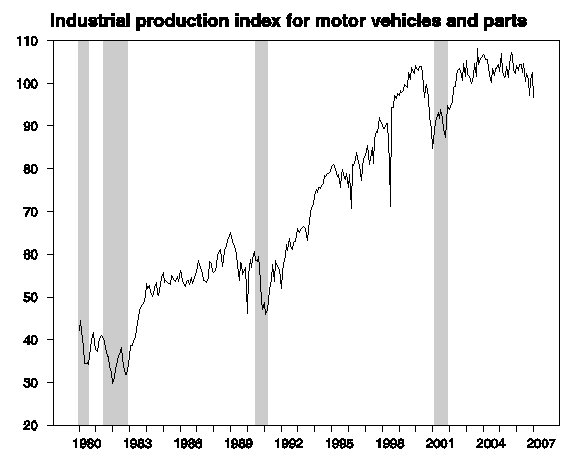 Figuring prominently in this decline were motor vehicles and parts, whose production index was down 6% in January alone. Here again some might be complacent about this on the grounds that autos have been sickly for a while. True enough, but as Econbrowser readers will be aware ([1], [2], [3]), over the last few months things have deteriorated significantly.
As I've also been saying on these earlier occasions, if the housing downturn gets no worse, that by itself should not be enough to cause a recession. Detroit's woes are also not enough by themselves to cause a recession. But what about the two together?
Here's what I think:


---
Technorati Tags: macroeconomics,
recession,
industrial production,
autos