The Bureau of Labor Statistics reported today that U.S. nonfarm payrolls, as measured by their survey of establishments, increased by a seasonally adjusted 97,000 workers in February.
Calculated Risk declares "overall this is a solid report." CR's optimism appears to derive partly from the fact that today's BLS release also includes substantial upward revisions for the employment growth now calculated for December and January, and partly because the significant February declines in construction employment, which both CR and I are expecting to continue, were offset by gains in services.
I continue to urge that these numbers be combined with those from
Automatic Data Processing, who estimate that employment only grew by 57,000, and the separate BLS survey of households which signaled that seasonally-adjusted U.S. employment actually declined in February by 38,000 jobs. The ADP estimates have previously been greeted with a bit of skepticism by many observers. Admittedly, the previous estimates from ADP included some big misses relative to the more-trusted BLS nonfarm payroll numbers, as shown in the graph below.
Seasonally adjusted monthly employment growth as estimated from previous series published by ADP (blue lines) and actual pre-benchmark-revision numbers from BLS (red). Source: ADP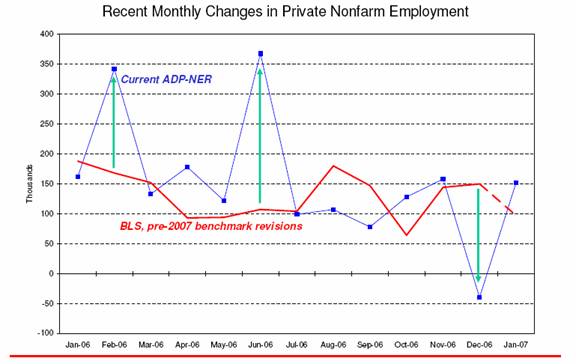 However, ADP has recently adopted some
important changes in how their index is constructed. Among other changes, their measure is now based on data for 23 million workers (rather than the "mere" 7 million covered originally). They've also tried to correct some of the overfitting. Part of their methodology involves regressing the reported BLS nonfarm number on what the ADP numbers imply for given categories, and then aggregating the categories back up. There's a danger of overfitting with such a method, getting something that would look great within sample but fall apart out of sample. By collapsing the number of cells from the original 19 industries to a smaller group of 10 now, some of that problem will be reduced. Nevertheless, if I were producing these estimates, I would have used additional shrinkage of each cell toward the current aggregate and previous values, as well as shrink the regression weights toward known or separately estimated cell fractions. But ADP believes that the steps they have taken will be enough to eliminate the misses noted above:
Seasonally adjusted monthly employment growth as estimated from series as now calculated by ADP (blue lines) and actual post-benchmark-revisions numbers from BLS (red). Source: ADP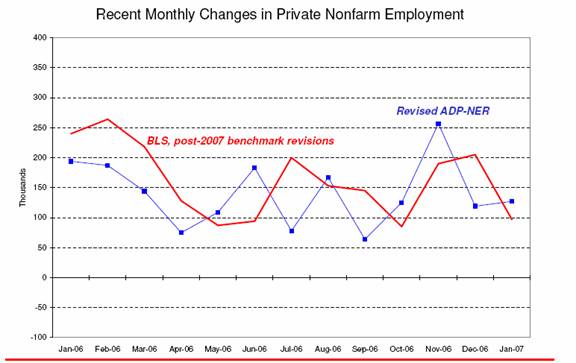 In any case, it remains unambiguously true that the ADP database contains some very useful information not included in the nonfarm payroll estimates, and that the separate household survey has important information missed by both the others. Even if you're not persuaded that the methodological changes by ADP have solved all the problems with that series, I believe it still makes sense to combine the three measures. A conservative approach (by which I mean, one still skeptical of the ADP numbers) might be to use the weights I'd been recommending, namely 0.8 for the initial nonfarm payroll, and 0.1 for ADP and household. That gives you an estimate of employment growth for February of 80,000 new jobs rather than the 97,000 claimed by BLS.
In other words, an open-minded person should believe it's fairly likely that the BLS nonfarm payroll numbers have overestimated the amount of February job growth.
---
UPDATE:
Calculated Risk in a comment below notes that I've made a tremendous blunder here in overlooking the distinction between "private nonfarm employment", which the 57,000 ADP number describes, and "nonfarm payroll employment", which the 97,000 BLS number describes, the difference between them being the 39,000 additional government jobs reported by BLS for February. So the 57,000 ADP figure should be compared with 97,000 – 39,000 = 58,000; in other words, the ADP and BLS payroll are in substantial agreement this month.
CR reports that the average government employment gain is 21,000, so the distinction between "private nonfarm employment" and "nonfarm payroll employment" is much bigger this month than it usually is.
Therefore the calculation I should have made is (0.8)(97) + (0.1)(57+39) – (0.1)(38) = 83,000 (rather than 80,000 as reported in the original post) as a better estimate than 97,000 of the number of new jobs for February. It's pulled down by the household survey alone rather than by household plus ADP.
---
Technorati Tags: macroeconomics,
employment,
BLS,
BLS household survey,
ADP