A big challenge for Mexico and the rest of us.
The Wall Street Journal reported today that production from Mexico's Cantarell oil field fell by 20% between January 2006 and February 2007.
Cantarell oil production (millions of barrels per day). Source: W$J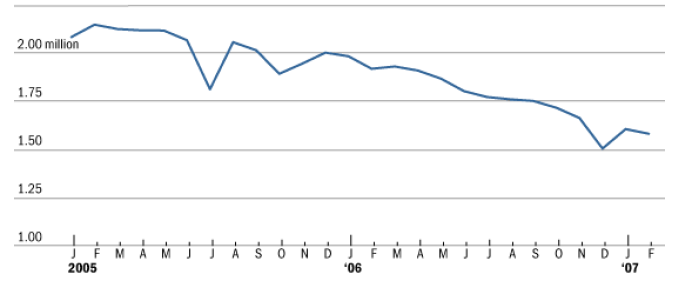 The Journal notes that nearly a quarter of the world's oil currently comes from only 20 individual fields, of which Cantarell had been the second biggest:
Two decades ago, about a dozen fields produced more than a million barrels a day. Now there are only four, one of which is Cantarell. The future of two others, discovered more than 50 years ago, remains in question. Some analysts speculate Saudi Arabia's Ghawar, the biggest field by far, could begin a gradual decline within a decade or so. Another, Kuwait's Burgan, is showing signs of maturity. In November of 2005, Kuwait Oil Co. lowered its estimate of the field's sustainable production level to 1.7 million barrels a day from 1.9 million a day.
The Journal chose surprisingly cautious language in that statement about Ghawar. As Econbrowser readers are well aware, some analysts in fact speculate that Ghawar's decline has already begun. It's interesting that if you click on the WSJ online link to see data on aging oil fields, it leads to a table that estimates Ghawar productive capacity will fall by 11% between 2007 and 2010.
Ghawar in immediate decline raises such frightening possibilities, it seems the WSJ is afraid to float it even with the qualifier "some analysts speculate", and even when their own data suggest that's what we should be anticipating.
---
Technorati Tags: oil prices,
peak oil,
Mexico,
Cantarell,
Ghawar