The IMF's April 2007 World Economic Outlook has been released — or at least part of it. One chapter, entitled Exchange Rates and the adjustment of External Imbalances [pdf], deals with a subject close to my heart.
There is much that is familiar in the chapter, although this in no way reduces its relevance. However, one new aspect is the recognition that traditional estimates of price elasticities for trade flows might be biased downward. The implication of this finding is as follows:
How much would the U.S. dollar need to decline in the long run to reduce the current account deficit? Typical estimates from the standard econometric models of the U.S. economy suggest that narrowing the ratio of current account deficit to GDP by percentage point would require a real depreciation ranging from 10 percent to 20 percent. The evidence on trade elasticities presented in this chapter is consistent with estimates at the lower end of this range. Incorporating estimates that correct for either aggregation or vertical integration biases into a partial equilibrium analysis of trade adjustment suggests that a real depreciation of between 10 percent and 5 percent is needed to lower the trade deficit by percent of GDP. Using elasticities that correct for both biases brings the
required real dollar depreciation down to below 10 percent (Figure 3.11).
The two modifications made by the authors include accounting for aggregation bias (the fact that examining aggregated trade flows instead of disaggregated trade flows may bias downward estimated price elasticities) and accounting for trade in intermediate products used in exports — namely vertical specialization.
I discussed the importance of this aspect in the context of implausibly high estimated income elasticities in traditional econometric specifications in "Long term prospects for U.S. net exports" (Jan. 2006) and "Measuring the import component of U.S. exports" (June 2006). The former post recounted more extensive results reported in this working paper [pdf].
In that paper, I found that examining separate components of imports typically — although not always — yielded higher price elasticity estimates than when using aggregated data (imports are where the low price elasticities are usually found). This is shown in Table 5 from the paper.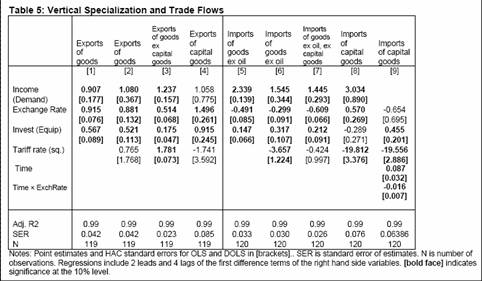 Table 5
from M. Chinn, "Supply Capacity, Vertical Specialization and Tariff Rates: The Implications for Aggregate U.S. Trade Flow Equations," mimeo (September 2005)
[pdf]
The IMF staff has undertaken a more extensive analysis (see in particular Appendix 3.2 to the chapter, authored by Alessandro Rebucci, starting on page 108). The implications of these alternative estimation methods/specification are summarized in Figure 3.11 from the chapter.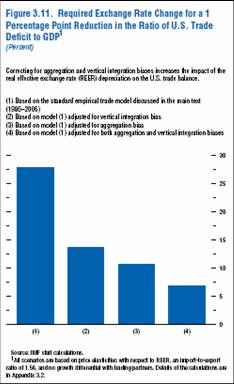 Fig 3.11
from IMF, World Economic Outlook (April 2007), Chapter 3
[pdf]
In a partial equilibrium setting, instead of the 28 percent depreciation needed to induce a 1 percentage point improvement in the trade balance to GDP ratio, only about a 15 percent depreciation is required once on takes into account vertical specialization in the manner the WEO authors do. Accounting for both aggregation bias and vertical specialization leads to an even more striking result — only 7 percent depreciation is required. This is good news to the extent that we cannot hope for too much initiative from the present Administration for fiscal retrenchment to aid in the process of global rebalancing (after all, the White House apparently does not believe in any role for fiscal policy in affecting the current account balance).
Technorati Tags: capital goods,
trade deficit,
trade elasticities ,
expenditure switching,
vertical specialization,
aggregation bias