In a previous post, I noted that the slowdown in economic growth in the US relative to rest-of-OECD would have a number implications for the dollar's value in nominal and real terms.
To see this, suppose we use a simplified cash-in-advance model forwarded by Alan Stockman in the Richmond Fed Review back in 1987 [pdf]. The cash in advance constraint, when assumed to bind, makes the money demand appear to follow a simple quantity theory:
M d/px = a
Where M is home money, p is the nominal price, x denotes the good produced by the home country, and a is the real demand for home money, expressed in terms of home goods. This can be thought of as approximating domestic production, in an endowment economy. Assume the foreign money demand has analogous properties.
M *d/py = a*
Note the foreign country produces good y. Hence, this is a two good model, with no nontraded goods.
Further assume money supply equals money demand equals a given money stock. Finally, to make the model international, let the real exchange rate be given by Zy = Epy*/px, where E is the number of USD required to buy a single unit of foreign currency. Then:
E = [Msa*/M*sa]Zy
So E is the nominal exchange rate, Zy is the relative price in terms of how many units of home goods it takes to buy a single unit of foreign goods. Now, there is a real (pun intended) question here in which direction the causality runs. As written, the causality runs from the relative price Z to E. However, if prices are sticky, one can make the argument that it runs in the other direction. Since I'm interested in medium term effects, I'll assume (like Stockman did) that the causality runs from right hand side to left.
If one thinks of a and a* as being endowment shocks, one sees that an increase in home endowment (sort of like an increase in home GDP) will tend to decrease E (i.e. appreciate the home exchange rate) because it increases the demand for home currency. On the other hand Zy is generally not unchanged. Rather, Zy will tend to depreciate if the propensity to consume home goods is the same as the propensity to consume foreign. The extent of the effect will also depend on the price elasticity of demand for home goods. So in this interpretation the nominal and real exchange rate can go in different directions (this is one reason why one wouldn't always want to use this model for short run analysis).
What will make the relative price Zy fall (appreciate) in response to an increase in endowment (which can be interpreted as an increase in productivity of GDP)? If there is home bias in consumption (here bias toward consuming good x by home country residents), or ownership of firms producing good x is biased toward home country residents. Then an increase in home endowment a could lead to an appreciation of the relative price of the home good.
How does the model relate to the real world? It shows that increases in home GDP — either through higher production or higher productivity — will tend to appreciate the nominal exchange rate, but will have ambiguous effects on the real exchange rate. If one adds in nontradable goods, another layer of complication is introduced, such that it depends upon where the productivity increase occurs.
What is the evidence? I've written a number of papers on the subject ([1],[2],[3]), but I'll just present a picture and a regression for now. The real exchange rate and the productivity differential are plotted in a way such that comovement indicates higher productivity is associated with a stronger dollar.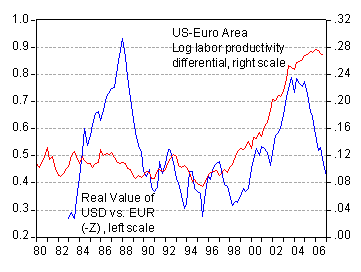 Figure 1:
Log real CPI deflated value of US dollar against Euro (-Z) and log US-Euro area productivity differential. Source: ECB, FREDII, author's calculations.
Obviously, there is not a close fit, especially in the 1980′s. However, if one is interested in the productivity effect, one might want to focus on the period when there is a wide variation in productivity trends. I estimate a dynamic OLS regression [(DOLS(2,2), no trend] over the 1990q1-2006q2 period to obtain.
log(Z) = constant – 1.09[log(proddif)] + 0.21 [log(real oil price)] + first diff terms
The coefficients on both key variables are statistically significant using Newey-West standard errors. The coefficient on productivity indicates that higher productivity will appreciate the USD against the Euro.
Bottom line — with the dollar already depreciated against the Euro, and the productivity trends just now moving against the US, my view is — with respect to a broad basket of currencies — watch out below.
Technorati Tags: href="http://www.technorati.com/tags/dollar">dollar, href="http://www.technorati.com/tags/macroeconomic+policy">macroeconomic policy,
productivity growth,
exchange rates