Fed Chair Ben Bernanke yesterday explained why he sees no need for increased regulation of hedge funds.
Quoting from Bernanke's speech:
File picture from CNN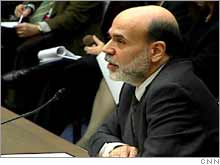 [M]ost small retail investors are ill-equipped to provide effective market discipline because monitoring complex financial activities demands considerable time, effort, and sophistication. In the case of hedge funds, securities laws effectively allow only institutions and high-wealth individuals to invest in them. These investors generally have the resources and sophistication, as well as the incentive, to monitor the activities of the hedge funds. Large investors are not only well equipped to assess the management, strategies, performance, risk-management practices, and fee structures of individual hedge funds but they also have the clout to demand the information they need to make their evaluations….

Thus far, the market-based approach to the regulation of hedge funds seems to have worked well, although many improvements can still be made (Bernanke, 2006). In particular, risk-management techniques have become considerably more sophisticated and comprehensive over the past decade. To be clear, market discipline does not prevent hedge funds from taking risks, suffering losses, or even failing–nor should it. If hedge funds did not take risks, their social benefits–the provision of market liquidity, improved risk-sharing, and support for financial and economic innovation, among others–would largely disappear.
I agree with Bernanke that direct regulation of hedge funds could be counterproductive. But I am a little more worried than he is about whether the incentives for investors in those funds are working out correctly. In particular, I have raised the concern that some pension fund managers could conceivably want a negative-expected-return portfolio, if this comes in the form of a high probability of above-normal returns and a low probability of severe losses. Bernanke downplays this possibility, asserting
[M]anagers of pension funds and similar institutions generally have a fiduciary duty to their investors to research and understand their investments and to ensure that their overall risk profile is appropriate for their clientele. In practice, most pension funds have only a small exposure to hedge funds.
I assume that Bernanke has some good data to back up that last claim, though I'd be interested to know what it is. I have only looked at one pension fund in detail, the San Diego County Employees Retirement Association, and found that its hedge fund exposure amounts to at least 20% of its assets, and possibly considerably more.
Certainly when we are talking about pensions for government employees, restricting hedge fund participation is not intrusive government regulation, but simply a question of sound fiscal management. I would also make the further argument that corporate pension funds have the political potential to become public liabilities, and could have similar incentive concerns arising from the possibility of corporate bankruptcy.
I therefore repeat a suggestion I have made before. If one defines a "hedge fund" as any institution whose detailed assets and liabilities are not publicly disclosed and regularly audited, I would favor a statutory limit on the total notional exposure (in which I include investments, overlays, pledges of collateral, swaps, options, derivatives, guarantees, whatever) of any pension fund to hedge fund risk of no more than 10% of its total assets.
If Bernanke is right, this would be unnecessary because it would only affect a limited number of institutions. But that doesn't strike me as a good reason not to do it.
---
Technorati Tags: macroeconomics,
hedge funds,
Bernanke