An assessment of real and financial integration, co-authored by Yin-Wong Cheung (University of California at Santa Cruz Economics), Menzie D. Chinn (University of Wisconsin at Madison La Follette School and Economics) and Eiji Fujii (Tsukuba University, Graduate School).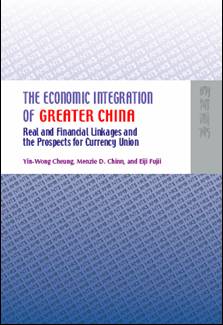 Click on graphic for link to book website. Published by Hong Kong University Press.

From the cover text:
"The tremendous success of China's program of economic reform and the rapid integration of China into the global economy have prompted this study on the economic and financial integration between mainland China, Hong Kong, and Taiwan — a grouping sometimes referred to as Greater China. While there has been a plethora of analyses of China's economic interactions with other economies, this book fills the need for a thorough investigation of regional financial and real interactions — corresponding to the many exhaustive studies of such interactions between developed countries and between East Asian countries.


Since real and financial integration has substantial implications for the efficiency of resource allocation and the efficacy of macroeconomic policy, Cheung, Chinn and Fujii offer a clear analysis of the current state of economic integration of Greater China, thereby helping to gauge the potential role of China in the global economy. Prospects of a currency union in Greater China, an extreme form of integration, are also evaluated with respect to benefits and
costs to the three parties. In addition, the authors provide complementary discussions regarding the degree of integration between China and several Pacific Rim economies, including those of Japan, Korea, Singapore, and the United States."
To whet your appetite, here are some papers related to the analyses contained in the book.


"Macroeconomic Management and Financial Stability: The Implications for East Asia," paper presented at
OECD-PRI conference on "The Impact and Coherence of OECD Country Policies on Asian Developing Economies," Paris, June 10-11, 2004. [PDF]



"Dimensions of Financial Integration in Greater China: Money Markets, Banks and Policy Effects," International Journal of Finance and Economics 10(2) (April 2005) (with Yin-Wong Cheung , UCSC, and Eiji Fujii, Tsukuba Univ.). [PDF]



"The Chinese Economies in Global Context: The Integration Process and Its Determinants," Journal of the Japanese and International Economies 20(1) (2006) (with Yin-Wong Cheung , UCSC, and Eiji Fujii, Tsukuba Univ.). [PDF]

Technorati Tags: China, Greater China,
Hong Kong,
Taiwan,
renminbi,
exchange rate,
interest rate parity, purchasing power parity, and
economic integration