A quick follow-up on a point I made last week ([1],
[2]) about the factors behind recent interest rate moves.
One view is that the prime cause of recent changes in interest rates has been changes in foreign demand for U.S. assets. If a foreign flight from U.S. Treasuries was responsible for the earlier dramatic rise in the 10-year yield, I would have expected that to be accompanied by downward pressure on the dollar.
Daily value of dollar (left axis, in euros per dollar, from FRED) and yield on nominal U.S. 10-year constant maturity Treasury (right axis, also from FRED).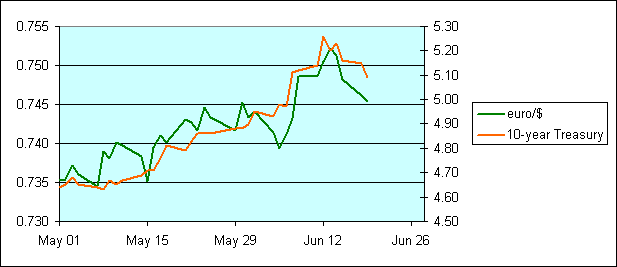 But the above graph shows pretty clearly that over the last 6 weeks, the correlation has been in the opposite direction. The dollar gained in value while long-term yields were rising up until a week ago, and the dollar and yields fell together since then. That suggests to me that much of the changes in yield we've seen may be driven by events inside rather than outside the United States. Specifically, if investors (both U.S. and foreign) came to perceive improved prospects for positive real economic growth over the next 1-2 years, that could account for both a rise in U.S. yields and a rise in the dollar. A new dash of pessimism last week would have brought a correction back down for both.
As for what might have contributed to the latter, I personally did not care for the latest consumer sentiment readings, and continue to worry a good deal about whether declining real estate prices could contribute to some systemic financial difficulties. Tanta had a trenchant summary of the implications of the Bear Stearns developments:
there don't seem to be nearly enough reported principal losses on actual subprime loans to account for the magnitude of the BS Funds' losses on a dollar-for-dollar basis, which does kind of suggest to us simpletons that something out there is magnifying, rather than dispersing, all this credit risk.
---
Technorati Tags: macroeconomics,
Federal Reserve,
interest rates,
exchange rates,
hedge funds