In the summer of 2005, Cambridge Energy Research Associates received a lot of publicity for their optimistic assessments of near-term oil supplies. Two years later, it's interesting to see how the details of those predictions have been borne out so far.
The foundation for CERA's optimism seemed to be quite concrete. Daniel Yergin stated the case this way in July of 2005:
There will be a large, unprecedented buildup of oil supply in the next few years. Between 2004 and 2010, capacity to produce oil (not actual production) could grow by 16 million barrels a day — from 85 million barrels per day to 101 million barrels a day — a 20 percent increase. Such growth over the next few years would relieve the current pressure on supply and demand.

Where will this growth come from? It is pretty evenly divided between non-OPEC and OPEC. The largest non-OPEC growth is projected for Canada, Kazakhstan, Brazil, Azerbaijan, Angola and Russia. In the OPEC countries, significant growth is expected to occur in Saudi Arabia, Nigeria, Algeria and Libya, among others. Our estimate for growth in Iraq is quite modest — only 1 million barrels a day — reflecting the high degree of uncertainty there. In the forecast, the United States remains almost level, with development in the deep-water areas of the Gulf of Mexico compensating for declines elsewhere.

While questions can be raised about specific countries, this forecast is not speculative. It is based on what is already unfolding. The oil industry is governed by a "law of long lead times." Much of the new capacity that will become available between now and 2010 is under development. Many of the projects that embody this new capacity were approved in the 2001-03 period, based on price expectations much lower than current prices.
Though the specifics of CERA's calculations were not publicly released, in August 2005 they featured some supplementary material on their webpage (since removed) that included the following details of which important new oil fields would contribute to this surge in capacity: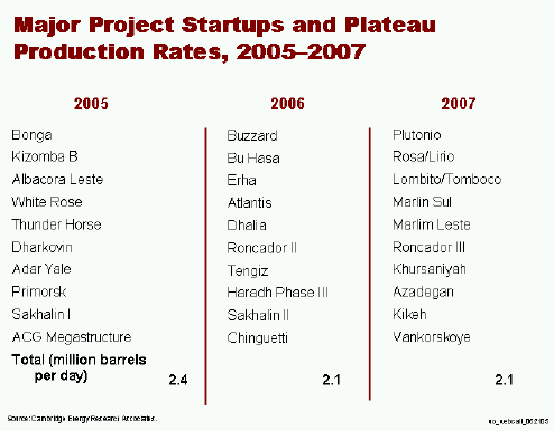 CERA also at the time publicly released this graphic of the contribution by specific individual countries to the anticipated increase in global capacity, predicting that global oil production capacity would increase by 5.5 million barrels per day (mbd) between 2004 and 2006: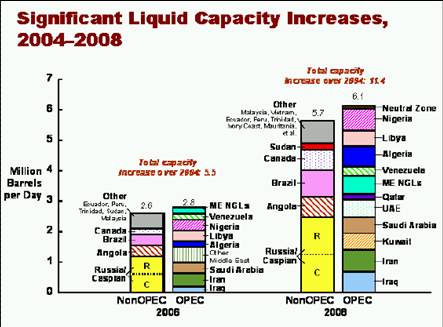 Two years later, we now know that global oil production increased not by 5.5 mbd but instead by only 1.5 mbd over this period.
On the basis of eyeballing the above graphic, I estimated the magnitude of the increases that CERA had evidently been predicting for the key producing countries. These calculations are indicated by blue bars on the figure below, which can then be compared with what actually happened (in red, from EIA Tables 11abc and 22) in each of these countries: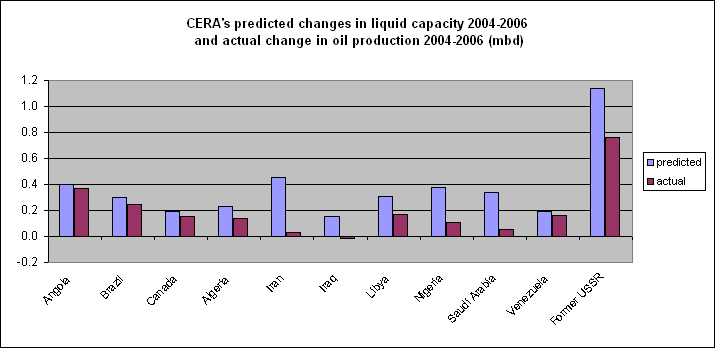 So where exactly did the methodology go wrong? Part of the answer is to be found in what CERA called "above-ground risks" and might be described in the vernacular as "stuff happens." Thunder Horse, BP's magnificent offshore production platform, has not produced a drop since it was found listing in the water in 2005. It was originally thought to have been damaged by Hurricane Dennis in 2005, but is now believed to have suffered from construction problems. Nigeria's Bonga and Erha fields indeed appeared to be contributing significant new production, but political turmoil in that country has meant that Nigeria's total production is in fact now down several hundred thousand barrels a day from the 2005 values. The "quite modest" production gains that CERA forecast for Iraq were not to be, for reasons painfully well known.
BP Thunder Horse
But CERA overestimated production by a significant margin in every one of these countries– missing 11 out of 11 can't be solely bad luck. Nor in my opinion can it be attributed entirely to the principle, "things take longer than you think," though I have no doubt that's also a factor.
As evidence that something else is also involved, I note referring again back to the first table that Iran's Darkhovin field did indeed begin production of 55,000 barrels per day as predicted in July 2005. But despite that fact, Iran's production in February 2007 stands 320,000 barrels per day below the value in July 2005. And Stuart Staniford believes that Saudi Arabia's Haradh III indeed did start producing 300,000 barrels per day in the summer of 2006, as predicted. Yet we have seen total Saudi production decline by 700,000 barrels per day since that time.
It is hard to form a clear picture of what is going on in some of these Middle East oil producing countries, since the hard data are not made public. But I think it is safe to conclude that in general, depletion of the oil from existing fields has been more significant than CERA had anticipated, which is one reason they systematically erred on the side of predicting more oil than we actually are seeing. Mature fields naturally and necessarily enter a period of declining production. That means that remarkable new oil fields, like the ones detailed in the first CERA table above, do not guarantee that annual production will increase. Big new discoveries every year are necessary just to keep annual production from declining. That CERA may have been underestimating depletion was the key criticism raised by the Oil Drum back in August 2005. With two more years of data, an impartial observer would be tempted to conclude that TOD's side in this argument has gained some credibility.
And let me say something about those "above-ground" risks. I can readily grant that if the world's remaining oil were located in peaceful, capitalist democracies, more could be produced. But the fact is, we have no choice but to be counting on oil that is vulnerable to disruption by hurricanes in the Gulf of Mexico, war in the Middle East, and chaos in Africa. And who knows how the games of Venezuela's Chavez and Russia's Putin will ultimately be played out? I am willing to assert with near certainty that somewhere in that group, there will be significant disruptions in oil production over the next five years. Actual oil production is virtually guaranteed to end up below any theoretically calculated capacity. Call these above-ground risks if you wish, but they are clearly going to be important factors determining the price and availability of crude petroleum over the foreseeable future.
Two years ago, Cambridge Energy Research Associates overstated the case for optimism about near-term oil supplies. But you already noticed that the last time you bought gas, didn't you?
---
Technorati Tags: oil prices,
oil,
peak oil,
oil supply