In testimony before the U.S. Congress yesterday, Fed Chair Ben Bernanke continued his policy of greater openness and transparency for Federal Reserve policy, trying to lay out clearly what the Fed is most worried about.
Bernanke's statement included the following details:
File picture from CNN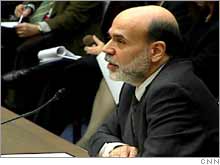 The central tendency of the [FOMC member] growth forecasts, which are conditioned on the assumption of appropriate monetary policy, is for real GDP to expand roughly 2-1/4 to 2-1/2 percent this year and 2-1/2 to 2-3/4 percent in 2008. The forecasted performance for this year is about 1/4 percentage point below that projected in February, the difference being largely the result of weaker-than-expected residential construction activity this year. The unemployment rate is anticipated to edge up to between 4-1/2 and 4-3/4 percent over the balance of this year and about 4-3/4 percent in 2008, a trajectory about the same as the one expected in February.
Putting out specific numbers like this is intimidating– we're much too chicken to do it here at Econbrowser– since even the best numbers are sure to be wrong. Bernanke is giving us these numbers not because he's sure it's going to happen this way– he knows it won't. But the numbers do communicate exactly what the Fed is thinking in a way that Greenspan's mushy sentences never did. The Fed's best guess is that the current slow growth rates will continue for another year, and the reason is the ongoing problems with housing:
The pace of home sales seems likely to remain sluggish for a time, partly as a result of some tightening in lending standards and the recent increase in mortgage interest rates. Sales should ultimately be supported by growth in income and employment as well as by mortgage rates that–despite the recent increase–remain fairly low relative to historical norms. However, even if demand stabilizes as we expect, the pace of construction will probably fall somewhat further as builders work down stocks of unsold new homes. Thus, declines in residential construction will likely continue to weigh on economic growth over coming quarters, although the magnitude of the drag on growth should diminish over time.
Bernanke also acknowledged that the Fed has become more concerned about mortgage defaults:
conditions in the subprime mortgage sector have deteriorated significantly, reflecting mounting delinquency rates on adjustable-rate loans. In recent weeks, we have also seen increased concerns among investors about credit risk on some other types of financial instruments. Credit spreads on lower-quality corporate debt have widened somewhat, and terms for some leveraged business loans have tightened. Even after their recent rise, however, credit spreads remain near the low end of their historical ranges, and financing activity in the bond and business loan markets has remained fairly brisk.
Bernanke's concerns, however, are not as great as those of Brad DeLong, who concludes on the basis of arguments like this one from the Irvine Housing Blog that it's time for the Fed to lower its target for the fed funds rate:
Part of the bearish argument for a dramatic drop in [house] prices is predicated on an infusion of "must sell" inventory to the housing market. Sellers won't sell at a loss unless they have no choice. This is why prices generally are sticky in a housing market decline.

Foreclosures and short sales are by their nature must-sell inventory. For this must-sell inventory to be forced onto the market people must be unable or unwilling to make the payments on their mortgage. The "unable" part will come from resetting ARMs with higher interest rates; the "unwilling" part will come from people walking away from 100% financing deals when market prices do not continue to rise.
The concern is then how broad the financial ramifications would prove to be if we see high default rates outside of the subprime categories. But I think Bernanke is unlikely to follow DeLong's advice, because the Fed Chair is in the same box he's been in all along– fears about rising inflation. Returning to Bernanke's statement:
Sizable increases in food and energy prices have boosted overall inflation and eroded real incomes in recent months–both unwelcome developments. As measured by changes in the price index for personal consumption expenditures (PCE inflation), inflation ran at an annual rate of 4.4 percent over the first five months of this year, a rate that, if maintained, would clearly be inconsistent with the objective of price stability.
Bernanke remains hopeful, however, that the slow growth will bring inflation down. He was notably cautious about that prediction, however, offering numerical forecasts only on core rather than total PCE inflation:
The central tendency of FOMC participants' forecasts for core PCE inflation–2 to 2-1/4 percent for 2007 and 1-3/4 to 2 percent in 2008–is unchanged from February. If energy prices level off as currently anticipated, overall inflation should slow to a pace close to that of core inflation in coming quarters.
Bernanke noted that such an anticipation is plausible, with
futures prices suggesting that investors expect energy and other commodity prices to flatten out.
But Bernanke is also well aware that these futures-based forecasts historically have a huge forecasting error, and no one can rule out a continuation of the recent surge in energy and food prices.
All of which leaves the Fed no alternative but to keep the target fed funds rate steady for now. But I share DeLong's big worries, and suspect that Bernanke must to some degree as well. My guess is that if there is an interest rate change, a cut is more likely than an increase. The key variables to be watching at this point are real estate prices and the inventory of unsold homes.
---
Technorati Tags: Federal Reserve,
Bernanke,
macroeconomics,
inflation,
housing,
subprime,
economics