…but mostly due to increasing oil prices.
From Bloomberg:
U.S. Import Prices Increase for Fifth Straight Month (Update1)


By Joe Richter





July 13 (Bloomberg) — Prices of goods imported into the U.S. rose for a fifth straight month in June on higher fuel costs, underscoring concerns among Federal Reserve policy makers that inflation remains a risk.


The 1.0 percent increase in the import price index, which was bigger than forecast, followed a 1.1 percent gain in May, the Labor Department reported today in Washington. Prices excluding petroleum rose 0.2 percent after climbing 0.5 percent.


The increase reflects near-record fuel costs, faster growth abroad and a weaker dollar, developments that make it more likely U.S. companies will raise prices, economists said. Fed Bank of Philadelphia President Charles Plosser said this week that an expected slowing in inflation is "far from a certainty."


"The dollar's weakening trend will continue to put upward pressure on prices of goods coming in from overseas, a trend that could worry Fed officials," Chris Rupkey, senior financial economist at Bank of Tokyo-Mitsubishi UFJ Ltd. in New York, said before the report. "As long as import prices are moving higher, the Fed is likely to stay with an inflation-risks bias in order to keep the inflation genie all bottled up."


Economists forecast import prices would rise 0.7 percent, after a previously reported 0.9 percent increase, according to the median of 47 estimates in a Bloomberg News survey. Forecasts ranged from a decline of 0.5 percent to a 1.4 percent gain.

With the dollar likely to experience continued weakness, one should expect continued price increases in both imports ex-oil and exports (indeed export prices including agricultural commodities have both been rising steadily). This phenomenon occurs either because of exchange rate pass through, or because all nominal prices and the dollar's value are jointly determined, or both.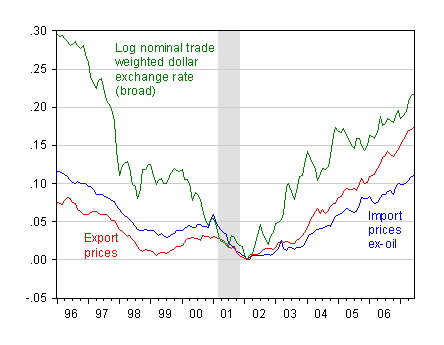 Figure 1:
Log import prices ex. oil (mean), export prices (red), and nominal broad trade weighted dollar exchange rate (green), all normalized to 2002M02. Source:
BLS
, and Federal Resere Board via FRED II.
Technorati Tags: href="http://www.technorati.com/tags/dollar">dollar,
pass through,
import prices,
trade-weighted exchange rate