How to reconcile the latest solid employment numbers with other indicators of economic weakness?
The Bureau of Labor Statistics reported today that the number of people working in the U.S., as measured by their survey of nonfarm establishment payrolls, increased by a seasonally adjusted 132,000 workers in June. While stronger than I had been expecting, the BLS payroll numbers were relatively modest compared to those from Automatic Data Processing, which handles the payroll records for over 20 million workers, and estimated that 150,000 net private sector jobs were added. When you combine this with the 40,000 new government workers reported by BLS, you get a June employment gain of 190,000 workers according to ADP. That agrees with the separate BLS household survey, which counted 197,000 new workers in June, and is also closer to the May nonfarm payroll gains, which estimate BLS has now revised up to 190,000.
The bond market read this as signaling much more economic strength than we had believed possible at the start of this week. The yield on 10-year Treasuries surged 20 basis points this week, undoing in a few days essentially all of the bond-market pessimism that had accumulated since June 12.
It certainly is hard to reconcile these latest robust employment reports with the view that output is growing sluggishly. Nowhere is the disconnect sharper than in residential construction. The figure below updates a theme from Calculated Risk, displaying the number of new housing units completed each month and the number of people employed in residential construction. Employment has fallen nowhere near as much as output in this sector.
Number of new housing units completed (in thousands, left scale, from Census Bureau), and number of people employed in residential construction (in thousands, right scale, from
Bureau of Labor Statistics).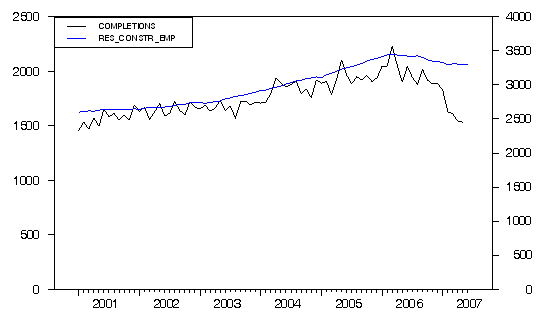 Let me therefore again revisit some of the possible explanations for that discrepancy.
Some have suggested that there have already been significant layoffs in the construction sector, but these have been concentrated on undocumented workers. While that claim is undoubtedly true, it is not correct to assume that these workers are not included in the BLS data. Note for example this from the Arizona Republic:
A 2005 report by the federal Government Accountability Office found that between 1985 and 2000, 9 million people got hired using this Social Security number: 000-00-0000. The report also found 3.5 million instances where a company had several employees using the same Social Security number. Most of the problem entries came from the food service industry and the construction industry.
A second possibility, articulated by King Banian and Stephen Stanley is that workers formerly in residential construction are now employed in the still-healthy nonresidential construction sector, though the BLS is counting those firms as if they were still operating primarily in the former category. If so, that suggests that strength in nonresidential construction has quite literally kept the economy chugging despite the woes for housing.
Another possibility raised by Calculated Risk is that the BLS establishment survey is underestimating the number of construction firms that have permanently gone out of business. Stone & McCarthy further argue that BLS is also missing the behavior of small firms in this sector. I had been leaning toward such hypotheses as long as the BLS household survey, which is not subject to these same problems, was signaling slower employment growth than the nonfarm payrolls. I still believe that we will eventually (perhaps next fall) see these current construction employment numbers revised down. But the strength we're seeing in the separate household survey numbers the last two months suggests to me that these biases may not be as severe as I was earlier assuming.
So maybe our Little Econwatcher put on a frown too soon. But let's wait to see if more data can help to settle his thoughts a little more clearly.
---
Technorati Tags: macroeconomics,
employment,
housing,
construction employment