I asked TouchGraph Google Browser, and here's what it thinks.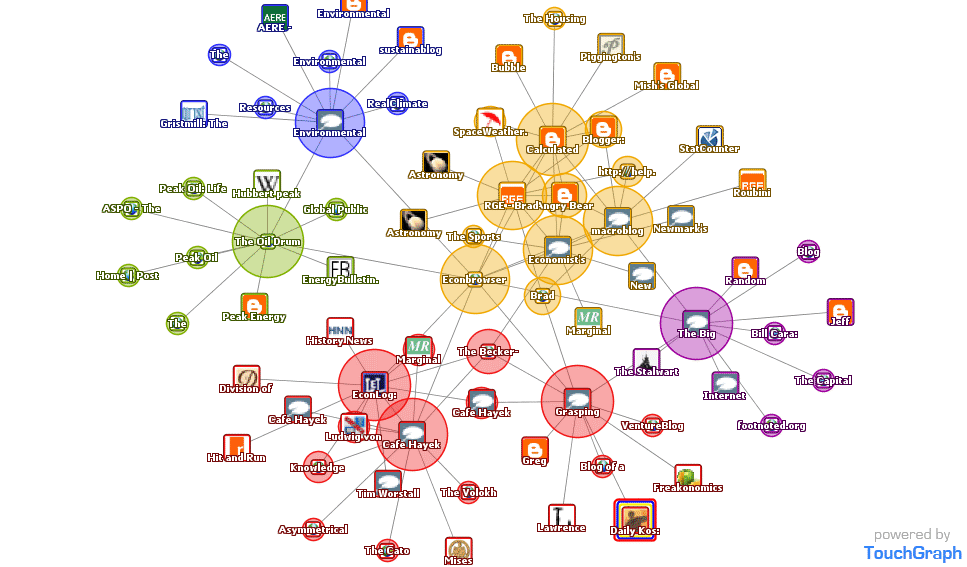 Econbrowser is primarily grouped among the macroeconomics blogs with Economist's View, Brad Setser, Calculated Risk, Angry Bear, and Macroblog. Strong links to the energy and environmental communities, anchored by The Oil Drum and Environmental Economics, respectively. And, off in a rather different direction, more financial-oriented macro analysts, the closest and most important of which for us clearly seeming to be Barry Ritholtz's The Big Picture.
And then there are the more ideological, conservative blogs surrounding EconLog and Cafe Hayek.
Brad DeLong is clearly confusing to TouchGraph, at least insofar as his relation to us is concerned, partly because it recognizes his MovableType blog, in beige among us macro types, as a separate entity from his Typepad account, which anchors its own oddly eclectic universe encompassing Greg Mankiw's Blog and Daily Kos.
So I guess that's what an Econbrowser must be, sort of.
---
Technorati Tags: economics blogs,
energy blogs