For the first time in 5 years, markets were actually unsure what the Fed was going to do, with yesterday's fed funds options calling it an even chance that the Fed would settle for a 25-basis-point cut or go all the way to 50. Capital Chronicle had prepared amusing posters as to just how to interpret a 25-basis-point as opposed to a 50-basis-point cut. Fifty it was, disappointing perhaps knzn who wanted a 175-basis-point cut, but delighting economic researchers like Refet Gurkaynak and Eric Swanson who both emailed me their high spirits at finally getting another data point for what happens when the Fed surprises the markets.
So what did happen? The 3-month Tbill rate fell by 15 basis points, about the same as the implied expected fed funds rate from the CBOT October futures contract. The 6-month Treasury yield was down 20 basis points, suggesting the Fed's move nudged markets in the direction of believing even more firmly in subsequent cuts. The farther-out futures contracts now seem to anticipate a 4.50% rate before the end of the year and 4.25% by February.
But the really interesting thing is what happened at the longer end of the yield curve. The ten-year nominal yield actually increased, which is in contrast to the usual historical pattern for long yields to move, albeit less dramatically, in tandem with the short. Taken together with today's fall in the 10-year inflation-adjusted Treasury yield, the bond market seems to view the Fed as having surrendered some on its long-run inflation goals.
A lower short-term interest rate makes dollar-denominated assets less attractive relative to foreign currencies, which along with any perception of increased inflation should mean a weaker dollar. And indeed it did, with the exchange rate dropping half a percent within a few minutes of the Fed's announcement:
NYBOT index of value of U.S. dollar. Source: INO.com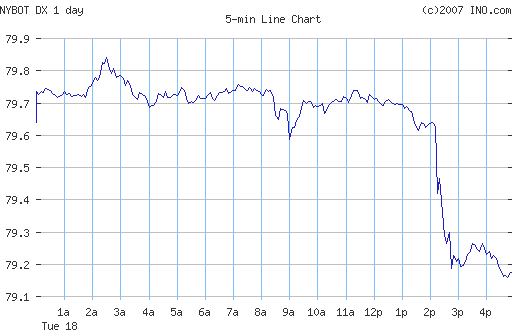 That drop in the dollar of course will also make the Fed's job of containing inflation more difficult, but the Fed must have anticipated this response. Concerns about a more precipitous decline might constrain the Fed in the future, but this much they can live with.
Lower interest rates also mean a lower carrying cost for commodity speculation, which inflation fears make all the more attractive. Oil and gold each gained more than 1%, oil now up to $81.50/barrel and gold to $725/ounce:



Gold spot price. Source: href="http://quotes.ino.com/chart/?s=FOREX_XAUUSDO&v=s&w=5&t=f&a=0">
INO.com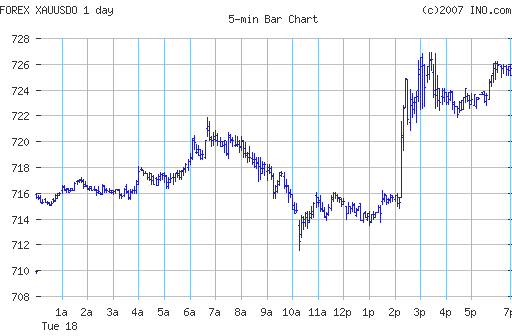 But the giddiest of all was the stock market, which shot up 2-1/2 percent today:
This last one seems out of place. I don't believe the Fed has the power to add 2-1/2 percent to the value of the capital stock with such a simple thing as a dozen-basis-point surprise on the fed funds rate. Yes, worries about the financial system have weighed heavily on the market. But those worries should still be there. Real estate prices still must fall, and mortgage defaults still must rise. If an employment decline has already begun, rate cuts may be too late to prevent a recession. That reality is what prompted the Fed to act today. I expect that the FOMC is very somber about the current situation. Perhaps Wall Street should take the same tone.
The Fed deliberately took a step back from its longer-run mission of containing inflation today. I don't think Bernanke did so because he'd like to see 3-1/2 instead of 2-1/2 percent real growth next year. I've been saying all along that his intention is to squeeze inflation as much as possible without sending the economy into recession or financial crisis.
The verdict is still out on whether we've avoided one or both of those last two pitfalls. If we have, I'm not sure that the market's confidence in another 50 basis points of cuts is warranted. If we haven't, today's exuberance in equity markets cannot be rational.
I expect that Bernanke is still worried about both inflation and recession. Sooner or later, Wall Street will come around to the same perspective.
---
Technorati Tags: macroeconomics,
Bernanke,
Federal Reserve,
inflation,
recession