Forward rates on Treasury bonds tell an interesting story about the market's reaction to the Fed's interest rate cut on Tuesday.
A forward rate is sometimes a useful way to summarize the information in the term structure of interest rates. Suppose for example that today you sell a 5-year zero-coupon bond currently worth $1000, and simultaneously buy a 10-year zero-coupon bond that is also currently worth $1000. You then wouldn't have any net cash flows in or out for 5 years, at which point you'd have to pay back the redemption value on your 5-year bond. Five years after that, you'd collect the redemption value on your 10-year bond. In effect, you'd have entered into an agreement today to buy a 5-year bond 5 years from now. The interest rate on that future bond is something you could calculate today from the current 5-year and 10-year yields to maturity, and is known as the 5-year, 5-year forward rate.
One could calculate such a forward rate using either the usual nominal Treasury bonds, or using Treasury Inflation-Protected Securities, whose coupon and principal are both indexed to increase with whatever inflation (as measured by the headline consumer price index) actually turns out to be each year in the future. The difference between those two forward rates (the nominal forward rate minus the inflation-protected forward rate) is described as the forward "inflation compensation" or "break-even inflation" rate, and might be interpreted as the inflation rate that market participants anticipate to hold in the future. This forward inflation compensation was studied in a recent research paper by Refet Gurkaynak, Andrew Levin and Eric Swanson, who found that the far-forward inflation compensation reacts much more to economic news in the United States than in Sweden, where the central bank has credible inflation targeting. For the United Kingdom they found that the sensitivity of the far-forward inflation compensation to economic news fell significantly when that country moved to inflation targeting.
A reader sends me this rather striking graph (a Bloomberg screen save from Tuesday's U.S. markets) of the 5-year, 5-year forward inflation compensation. As the news arrived that the Fed was cutting its target for the fed funds rate, this measure of expected future inflation moved rather dramatically.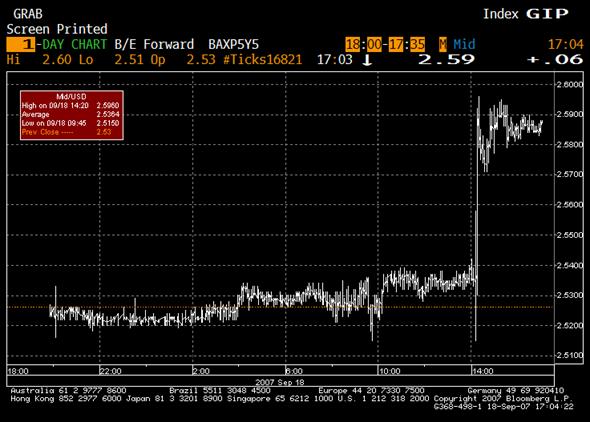 Although the abruptness of the adjustment is impressive, we need to remember the scale– we're only talking about a 5-basis-point change (or 0.05%) as we move up that cliff. Specifically, people who were betting that we'd see a 2.53% average annual rate of increase of the CPI between 2012 and 2017 are now anticipating something like a 2.58% average annual rate of increase over those 5 years.
Small, but a suggestion that this aspect of the Fed's decision this week could be with us for a long time.
---
Technorati Tags: macroeconomics,
Bernanke,
Federal Reserve,
inflation,
yield curve,
economics,
foward rates