Some people have argued that the occupation of Iraq could evolve into a West Germany type situation. CBO has assessed the costs of this eventuality.
From The Possible Costs to the United States of Maintaining a Long-Term Military Presence in Iraq (September 20, 2007):

If U.S. military operations in Iraq were to develop into a long-term presence, such
forces could differ substantially from those assumed in either of the scenarios
used in this analysis. Moreover, the two scenarios are not mutually exclusive over
time: The more intensive pace of combat operations could give way to the slower
pace of noncombat operations over some number of years. In any event, the
ultimate costs of any long-term U.S. military presence in Iraq would depend
heavily on the scale and pace of future operations.



Under the combat scenario that CBO considered, the United States would
maintain a long-term presence of approximately 55,000 military personnel in Iraq,
deploying military units and their associated personnel there for specific periods
and then returning them to their permanent bases either in the United States or
overseas. The scenario also incorporates the assumption that units deployed to
Iraq would operate at the same pace and conduct the same types of missions as the
forces currently deployed there. In CBO's estimation, this scenario could have
one-time costs of $4 billion to $8 billion and annual costs of approximately
$25 billion. (All costs in this analysis are expressed as 2008 dollars; see Table 1.)



Under the noncombat scenario that CBO analyzed, the United States would
maintain a long-term presence of approximately 55,000 military personnel in Iraq
by indefinitely stationing specific units at established bases there in a manner
similar to the current practice of assigning personnel to units based in Korea or
Germany. The scenario incorporates the assumption of much less intense military
operations than those under the combat scenario. Under this noncombat
alternative, units stationed in Iraq would rarely, if ever, be engaged in combat
operations. Up-front costs (mainly for construction) under the noncombat scenario
would be approximately $8 billion, with annual costs of $10 billion or less, CBO
estimates.
These points are illustrated by Table 1.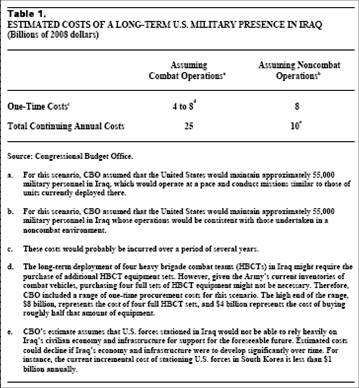 So one's views of the costs of staying in Iraq depend upon whether one believes that one has a continuation of the current situation (albeit with lower US troop levels) or a transformation of the theater to West Germany like conditions. Assuming a social discount rate of 3%, the present discounted value of expenditures (in 2008$) is between 339 billion and 841 billion, on top of the 450 billion current dollars expended already. And in addition to the 27 to 40 billion (2010$) associated with VA costs (Iraq plus Afghanistan).
By the way, these are the direct fiscal costs. As an economist, I have to observe that there is an opportunity cost associated with having 55,000 troops mired in Iraq indefinitely.
Technorati Tags: Iraq, casualties,occupation, burn rates.