Nonfarm payroll employment growth is 1.3% (12 month log difference). Civilian employment — adjusted to conform to the establishment payroll series — is 1.0%. These are the numbers for August 2007? Almost. Payroll employment growth was actually 1.2%. Those figures are for February 2001, the month immediately preceding the last NBER-defined recession.
So when you see this statement, from the White House website, Economy "Fact Sheet", accessed 8 Sep 07:
Today, The Bureau Of Labor Statistics Released New Jobs Figures. Nonfarm payroll employment edged down in August by 4,000 jobs, meaning our economy has created 1.6 million jobs in the last 12 months, and 8.22 million since August 2003 when the labor market began its turnaround. Private employment increased by 24,000 jobs in August, marking the 48th consecutive month of private job growth. The unemployment rate remained unchanged at 4.6 percent, below the average of each of the past four decades.
think about these graphs: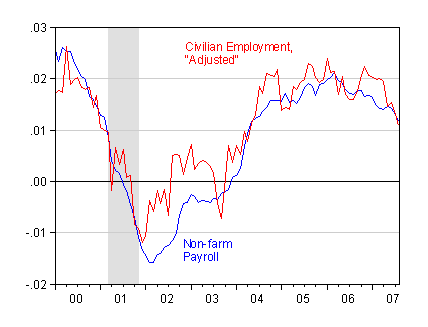 Figure 1:
12 month log change in nonfarm payroll employment (blue) and in civilian employment, adjusted to conform to payroll definition/coverage (red). NBER recession date shaded gray. Sources: BLS, September 7 release.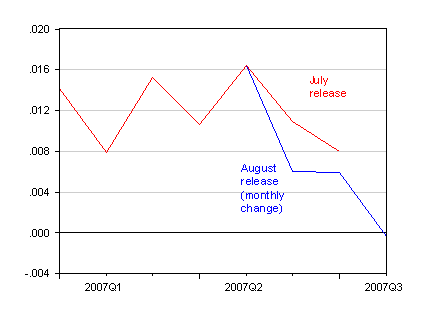 Figure 2:
Monthly log change, annualized, in nonfarm payroll employment, August data (blue) and July data (red). Sources: BLS.
Figure 1 shows that the last time both employment series exhibited the same growth rates, and the second derivative of the log level was negative (i.e., growth was decelerating) was in February 2001. Figure 2 shows that month-on-month growth has been substantially revised downward over the previous two months.
One difference is the unemployment rate; at 4.6 percent, it is 0.4 percentage points higher than it was in February 2001.
For alternative estimates of net job creation, see Jim's post.
[Late addition, 9 Sep, 5:30pm Pacific]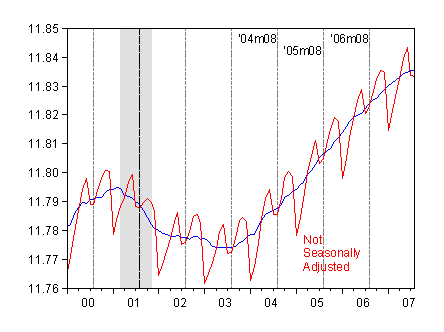 Figure 3:
Nonfarm payroll employment, seasonally adjusted (blue) and not seasonally adjusted (red). Gray shading is NBER-defined recession dates, dashed vertical lines denote August observations. Sources: BLS.
Technorati Tags: href="http://www.technorati.com/tags/recession">recession,
employment,
unemployment.