New data released today portend continued weakness for housing.
The National Association of Realtors today reported numbers for August existing home sales. The seasonally unadjusted number of single-family existing homes sold was up 3.1% over July. However, some pickup in home sales at the end of summer is to be expected, and seasonally adjusted that August datum gets reported as a 3.8% drop. The seasonally unadjusted figure is down 12% from August 2006 and down 22% from August 2005.
Seasonally unadjusted number of existing single-family homes sold each month, in thousands.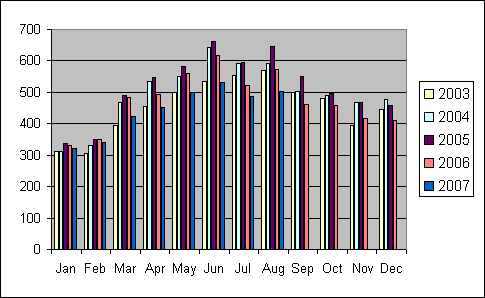 Remember that unlike the new home sales numbers that will come out on Thursday, the existing home sales are based on date of escrow, so that most of the contracts for these sales were likely signed in July or June, before the big problems with international capital markets began August 9. It's hard to see how those recent developments won't contribute to further deteriorating conditions for home sales. Mark Thoma calls our attention to these observations from Federal Reserve Bank of San Francisco economist Eric Swanson:

Delinquency and default problems on subprime mortgages appear to have led to a loss of confidence in the underwriting and rating standards on subprime and other nonconforming (such as "no-doc" and "jumbo") mortgage loans. As a result, the secondary market for these loans has largely evaporated. Since these loans cannot be securitized at present, lenders have either stopped making nonconforming mortgage loans altogether or have tightened standards for them considerably, even for prime borrowers, because those loans must be held on the lender's own books until demand for nonconforming mortgage-backed securities revives.
One of the reasons this account troubles me is that it seems to portray a capital market without a compass, in which no one has the tools to evaluate which loans are sound and which are not. That fact in itself makes me concerned about exactly what we've gotten ourselves into with the prospects of defaults on existing mortgages.
In any case, it's hard to see how curtailment of jumbo loans wouldn't have a big impact on those real estate markets like San Diego where huge loans are often needed to purchase many of the homes for sale. I also observe that even though the August existing home sales were up on a seasonally unadjusted basis, that wasn't enough to keep the inventory of unsold homes from rising another half percent from July, which puts it up 19% from August 2006 and up 60% from the average level of 2005.
And that means more pressure on house prices. The widely-reported median sales price also released by the NAR is not a particularly meaningful number, since the homes sold in August could have very different locations and characteristics from those sold in July. Much better is the Case-Shiller home price index, which tries to follow the price of a particular home in a given community and combine those into an aggregate index. Their index shows a 3.9% decline in home prices nationally and 7.8% decline here in San Diego over the last year.
Surely it's hard to dismiss the possibility of significant further declines in real estate prices. And what exactly will that mean for the financial repercussions of interlocking and leveraged holdings of mortgage-backed securities?
That's what has me worried.
---
Technorati Tags: macroeconomics,
housing,

mortgage backed securities,
house prices,
Federal Reserve,
San Diego,
economics