This week's GDP and employment numbers were a pleasant surprise. Should this cause the Fed to change its warning in Wednesday's FOMC minutes that
the pace of economic expansion will likely slow in the near term.
The Bureau of Labor Statistics' survey of establishments showed a net gain of 166,000 more workers on nonfarm payrolls (on a seasonally adjusted basis) during October compared with September. A separate estimate based on the 23 million payrolls processed by Automatic Data Processing suggested 106,000 new private-sector jobs, which, if you add in the 36,000 gain in government employees reported by BLS, implies a value of 142,000 for net jobs growth, slightly more moderate than the BLS estimate.
And then we have a third indicator from the BLS survey of households which reckoned that we experienced a 250,000 net drop in employment in October. Which supposedly followed a 463,000 gain in September. Which supposedly followed a 316,000 drop in August. Umm, right.
The only way I can see doing anything with household numbers like these is to look at the 12-month change in the seasonally unadjusted data, and here one gets a pretty clear indication that employment growth has slowed considerably:
Data source: BLS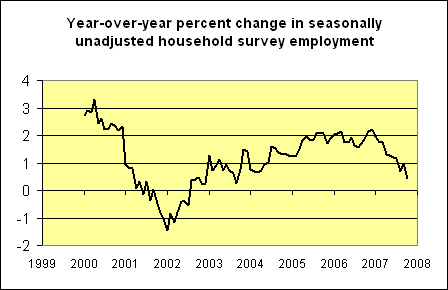 If you look at the establishment data on the same year-over-year seasonally unadjusted basis, you reach a similar conclusion:
Data source: BLS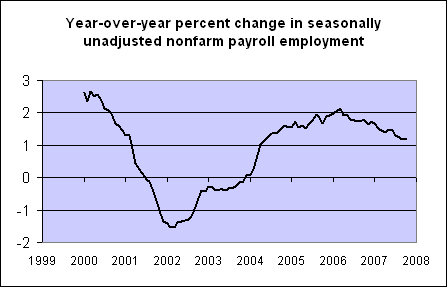 So I'm inclined to conclude that things are unlikely to be as rosy as the single observation on nonfarm payrolls might lead you to think. The weighted average of the three monthly indicators (nfp, ADP, and household) that we've been using here would give you a number of

(0.7)(166) + (0.1)(106 + 36) – (0.2)(250) = 80.4



or net job creation of 80,400 jobs, though that seems too pessimistic given the clearly suspicious recent household numbers.
All of this leaves me with the impression of an economy in which employment continues to grow, though not quickly enough to prevent the unemployment rate from rising,
or the employment-to-population ratio from falling:
---
Technorati Tags: macroeconomics,
employment,
economics