I find it interesting that one of the big drags on economic growth — namely high oil prices — is at least partially self-induced by United States policy.
I'm not talking about the misguided "energy policy" (as described by the Vice President's task force report from 2001), although this is of course important. Rather, I'm referring to the Administration's focus on Iran.
In a post from earlier this year, I observed that a limited strike on Iran could induce substantial costs on the US (and world) economy via higher energy prices. Now that oil is hovering above $90 dollars a barrel (the level it was assumed that oil prices would rise to in the Standard and Poor's Iran cutoff scenario), it might be useful to examine how the Administration's pronouncements have affected prices directly.
In order to do this, I rely upon event analysis of an informal nature. Consider this graph of the NYMEX crude oil accessed from INO on November 4th.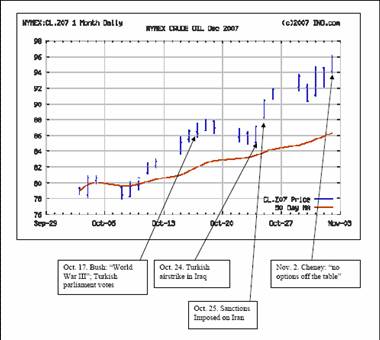 Figure 1:
Price of oil for December 2007 delivery. Source:
INO
, accessed November 4, 2007, and author's notations, based on
[1]
,
[2]
,
[3]
.
I want to stress this is a partial analysis; there are other factors impinging upon oil prices (including the tensions between Turkey and Iraq). But I think a more formal analysis would likely bear out the view that each time the Administration makes a more bellicose statement regarding the potential for military intervention in Iraq, the higher the oil price.
Of course, if one believes these threats are necessary, then the higher oil price is the price of pursuing our foreign policy. If one believes that Iran's acquisition of nuclear weapons is off by many years, then the pursuit of this diplomacy via threats is a costly diversion. Or it's even counterproductive. Indeed, with each dollar's increase in the price of a barrel of oil, an additional $3.7 billion is transferred (on an annualized basis) to the oil exporting countries (including Iran, Russia, Venezeula, Saudi Arabia, the Gulf States). (The calculation uses the Jan-Aug imports of barrels of oil recorded in the BEA trade release (see Exhibit 17)).
For some perspective, Figure 2 depicts the nominal and real price of oil, up to October (note that the data are averages of daily data).
The higher oil prices will presumably have an internal redistributive effect away from consumers and to domestic energy suppliers, as about one third of oil consumption is accounted for by domestic production.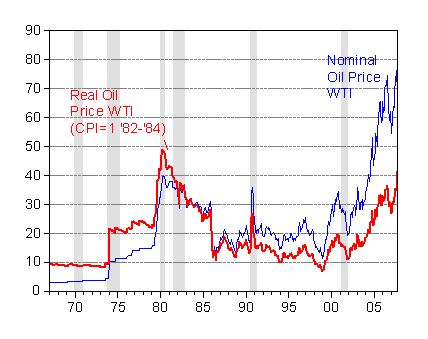 Figure 2:
Nominal (blue) and real (red) price of oil (WTI, per barrel). Real price is deflated by CPI-all (October inflation assumed to equal September). NBER-defined recessions shaded gray. Source: St. Louis Fed FRED II, NBER, and author's calculations.
One is tempted to wonder what would have happened had the Administration implemented policies six years ago that would have reduced oil consumption (e.g., from Greg Mankiw, here).
Technorati Tags: dollar,
oil prices,
Iran,
energy policy.