Since Halloween, financial markets seem to be getting spooked again.
Until recently, I thought the Fed could stand pat at their December 11th meeting. However, I have completely changed my mind in light of the continuing credit market turbulence.
Kudlow notes that the spread between 30-day asset-backed commercial paper and U.S. Treasuries, which spiked up dramatically after August's liquidity events but subsequently eased back down, climbed back up during November to the neighborhood of its previous high.
The same is true of the spread between the London interbank offered rate and Treasuries.
One of the features of the initial financial turmoil on which I "http://www.econbrowser.com/archives/2007/08/wheres_the_risk.html">commented last August is that it seemed to be confined specifically to the financing of problematic securities, but was not showing up as a broader risk premium in something like the spread between Baa-rated corporate bonds and 10-year Treasuries. But the latter spread has made a significant move up over the last month, and now stands 80 basis points higher than in July.
Daily observations on Baa corporate minus 10-year Treasury yield, January 2 to November 29, 2007. Data source: FRED [1],[2] and FRB.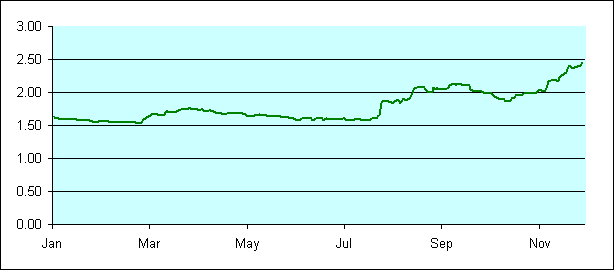 >
A sharp upward move in the Baa-Treasury spread is often associated with the early stages of an economic downturn, as the following longer-term perspective using monthly data illustrates:
Monthly observations on Baa corporate minus 10-year Treasury yield, with shaded regions indicating economic recessions.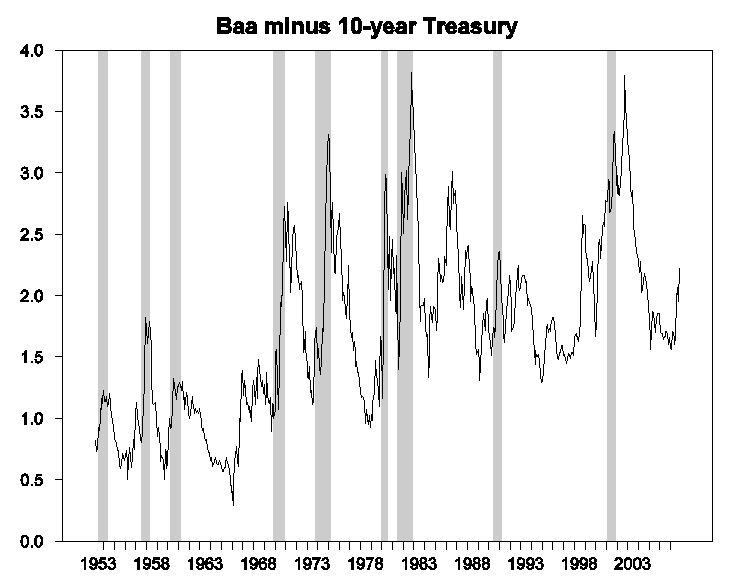 >
For what it's worth, bettors at Intrade also seem to believe that the risk of a U.S. recession during 2008 has crept up since mid-October.
Price of contract paying $100 if the U.S. experiences two consecutive quarters of falling real GDP during 2008. Source: Intrade.


>
---
Technorati Tags: macroeconomics,
interest rates,
yield spreads,
economics,
recession,
risk premia