From the White House OMB on Saturday:

Statement by White House Office of Management and Budget Director Jim Nussle

According to news reports today, House and Senate Democratic leaders are nearing agreement among themselves on a mammoth omnibus spending bill, two-and-a-half months after the end of the last fiscal year.



Although the Administration has not seen the legislation, according to press reports it would include 18 billion in additional domestic and emergency spending above the President's budget. When added to emergency domestic spending Congress already included in the Defense Appropriations bill, this so-called compromise would result in more excess spending than even the Democrats' original budget included.



This is not fiscally responsible. Our economic growth and job creation cannot be taken for granted, and Congress should not burden taxpayers with billions of dollars in additional wasteful spending.



Press reports also suggest that the Democrats in Congress believe this excessive spending is the price for providing a fraction of the funding requested for our troops in the field. Instead of trying to leverage troop-funding for more pork-barrel spending, Congress ought to pass responsible appropriations bills and the funding for the troops our commanders say they need to build on their battlefield successes.



If presented a bill like the one described in today's press reports, the President would veto it. If Congress insists on sending the President a budget-busting bill they know he will veto and that will not become law, they should also pass a continuing resolution that keeps the government running and provides the troops in the field the funds they need without disrupting the operations of the Department of Defense and the lives of hundreds of thousands of its employees and men and women in uniform.

While I am in favor of fiscal responsibility, I have to confess that a look at the time series data on Federal expenditures (government consumption and transfers) seems to suggest that the Administration has had a rather late conversion to spending restraint, or at least restraining spending of a certain sort (see [1]).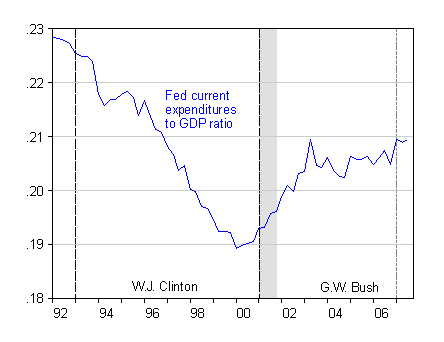 Figure 1:
Federal current expenditures as a share of nominal GDP. NBER-defined recession shaded gray. Dark dashed vertical lines indicate the beginnings of Clinton and Bush terms. The light dashed line indicates the beginning of the Democratic Congress. Source: BEA, NIPA Oct. 30 release, Table 3.2, and author's calculations.