On Thursday, the White House released its new forecasts. How does it compare against other forecasts?
The Administration forecasts are summarized in this table:
One point of interest. The 2.7% 4q/4q growth rate forecasted for 2008 is somewhat higher than in other forecasts. For instance, the Wall Street Journal forecast for 2007 is 2.45%, if one calculates it by simple average of the q/q growth rates for 2008 (the WSJ forecast reports the 2008 forecast growth rate as 2.4%). This survey was conducted over the November 2-7 period, about a week before the Administration's forecasts were being finalized (for more on the WSJ forecast, see this post). According to Reuter's (Nov. 10), the Blue Chip forecast growth rate was 2.4% as well.
In the press briefing, CEA Chair Lazear responds to the obvious questions:

Q I wonder, the Federal Reserve, when they put out their projections a couple weeks ago, the range among the 17 governors and regional bank presidents was that 2008 GDP is going to be between 1.6 percent to 2.6 percent, which means that your 2008 projection is higher than the most optimistic of the Fed governors. Any thoughts on what either you know they they don't, or they know that you don't? (Laughter.)


CHAIRMAN LAZEAR: We've tracked the accuracy of our forecasts and other forecasts, and they're all in the same range, so we have about the same accuracy. The other thing we know is that we are within forecast error of the other forecasts. So there are some years, like — if you compare ours, say, to the Blue Chip, for example, we're a bit higher than the Blue Chip at the beginning, then there are some years in which the Blue Chip is higher than ours. But in terms of statistically significant, they still all seem to be within the same forecast error range.


Q What might be going on in the ins and outs of your model that might make your expectation more optimistic than both the Fed and a lot of private firms, for what they're expecting next year?


CHAIRMAN LAZEAR: Yes, again, as I said, I mean, these models are very complicated. You're looking at something on the order of 400 variables. And it would be virtually impossible to figure out which one factor is causing one number to be higher in one year than another. But the way we think about it is, again, just sort of track what's the forecast error associated with this, and if you're getting something like a point or a point-and-a-half — a percentage point or a percentage point-and-a-half standard error on these kinds of estimates, you know, then we're talking about being well within the range of forecast error.


You know, our — I mean this is, as you know, it's a pretty inexact science. We try to do the best we can, but look at what happened this quarter. I mean, no one was forecasting 4.9 percent GDP for Q3; that was way, way out of range. So sometimes we err on the downside, sometimes we err on the upside. This time we were pleasantly surprised by forecasting too low.


Q So you feel like there's no single assumption or way you're approaching these questions that accounts for the difference between how you're viewing the economy and Wall Street and the Fed and other –


CHAIRMAN LAZEAR: Not that I know of, not that I know of.

The Administration's forecast is about 0.5 standard deviations above the mean forecast from the WSJ. Using a Normal distribution, this implies about 30% of the forecasts are above the Administration's forecast; however, the tails are a bit fat on the distribution, so a t-distribution might be more appropriate. Using the t implies about 40%.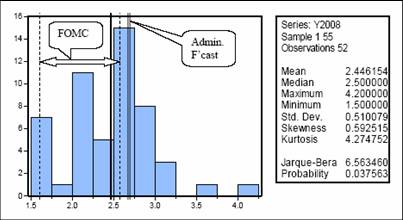 Figure 1:
Histogram of WSJ forecasts, with mean (solid line), FOMC forecast range (between dashed lines, arrow) and Administration forecast (double line). Source:
WSJ
,
Administration forecast
,
FOMC forecast
and author's calculations.
On the other hand, as highlighted by the question, the Administration's forecast of 2.7% is definitely above the 1.6-2.6 range cited in the FOMC minutes of October 30-31.
Technorati Tags: href="http://www.technorati.com/tags/forecasts">forecasts,
GDP,
recession.