The Bureau of Economic Analysis reported today that U.S. real GDP grew at a 0.6% annual rate in the fourth quarter of 2007, a weaker report than many of us had been expecting.
Consumption spending grew at a 2.0% annual rate during the fourth quarter, significantly weaker than the 3.2% growth that would have been expected based on the personal consumption data that we had available for October and November, and confirming the impression from retail sales data that consumption spending dropped sharply in December. The other big surprise was a big drop in inventories. That means that production growth was not as strong as sales, and hence, reduces the estimate of GDP, though it may leave businesses in a little better position to weather any further drops in demand. Without the inventory correction, real final sales grew at a 1.8% annual rate in the fourth quarter, somewhat less alarming than the headline GDP numbers alone.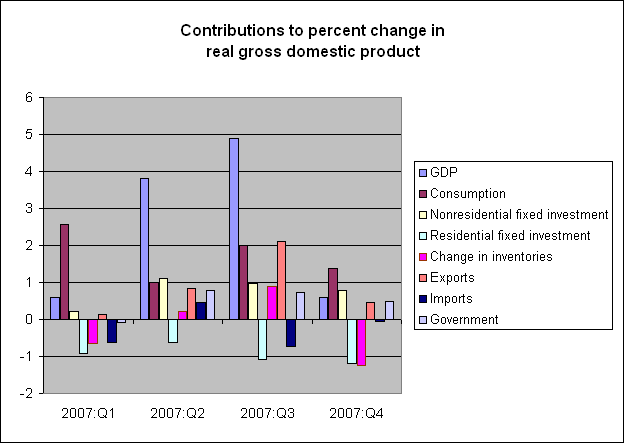 Exports, which had made a very strong contribution to 2007:Q3, continued to grow in the fourth quarter, albeit at a slower pace. Housing made an even bigger negative contribution than it has for each quarter over the last two years. Business investment also kept us afloat– had nonresidential fixed investment been flat, the quarter's GDP growth would have come out negative.
With the 2007:Q4 GDP numbers, I have updated our GDP-based recession probability index, which currently reads 7.7% for the third quarter of 2007. This index is not a prediction of what may come next, but rather is an assessment of overall economic performance as of the third quarter of last year. In this respect it is like the declarations from the National Bureau of Economic Research, which announces its conclusion about the dates when recessions begin and end. Like the NBER, I wait until there is enough data to make a definitive declaration, and will therefore wait until further data revisions and the advance 2008:Q1 GDP figures are released before making a declaration as to whether a recession may have started in 2007:Q4. What we can say categorically now (largely on the basis of the 4.9% GDP growth of 2007:Q3) is that the slow economic growth through the first three quarters of 2007 would not be characterized as an economic recession.
The plotted value for each date is based solely on information as it would have been publicly available and reported as of one quarter after the indicated date. Shaded regions represent dates of NBER recessions, which were not used in any way in constructing the index, and which were sometimes not reported until two years after the date.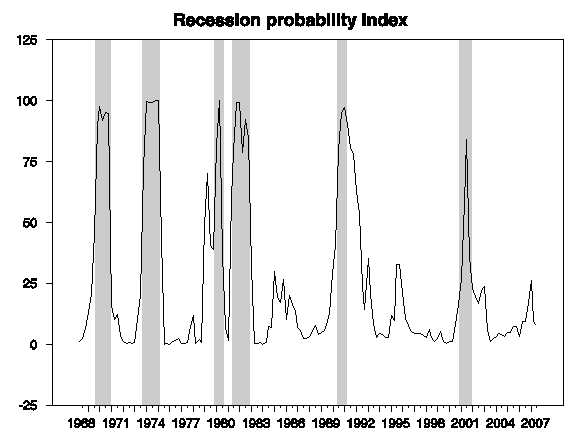 ---
Technorati Tags: GDP,
recession probability,
recession probability index,
macroeconomics,
economics