Five weeks ago I asked, Will inflation fears restrain the Fed?, and my answer was that they would not. Certainly inflation fears did not prevent the Fed from lowering its target for the fed funds rate by 125 basis points since I offered that assessment. But I believe that this week's data will force the Fed to be more cautious about the magnitude and pace of subsequent rate cuts.
Let's get this out of the way first: Wednesday's report from the Bureau of Labor Statistics on the consumer price index would I believe be described in Fedspeak as an "unwelcome development". The seasonally adjusted CPI increased at a 4.7% annual rate between December and January, a pace not far from the average over the last six months or year. The Fed tends to pay more attention to core CPI, which excludes food and energy. But even this was up at a 3.1% annual rate over the last three months and 2.7% over the last six.
Alternative measures of inflation (annual rate)

| Measure | Past month | Past 3 months | Past 6 months | Past year |
| --- | --- | --- | --- | --- |
| CPI | 4.7 | 6.6 | 4.6 | 4.4 |
| Core CPI | 3.7 | 3.1 | 2.7 | 2.5 |
Even if the Fed continues to ignore the broader CPI itself, has inflation as recorded by the core CPI crept up high enough to get its attention? I'm reminded of these words expressed by Fed Chair Ben Bernanke in June of 2006:
While monthly inflation data are volatile, core inflation measured over the past three to six months has reached a level that, if sustained, would be at or above the upper end of the range that many economists, including myself, would consider consistent with price stability and the promotion of maximum long-run growth. For example, at annual rates, core inflation as measured by the consumer price index excluding food and energy prices was 3.2 percent over the past three months and 2.8 percent over the past six months.
Now, the 3.1 core CPI inflation we've seen over the past three months is technically shy of the nasty 3.2% Bernanke said he could not tolerate, and the 2.7 for the past six months is also not quite the 2.8 he declared to be too high, but gee, they seem pretty darn close. For visual amusement I've plotted below the historical 3-month and 6-month core CPI annual inflation rates compared with the 3.2 and 2.8 thresholds previously articulated by the Fed Chair. Either we've basically reached the limit of what the Fed has been willing to tolerate in recent years, or else they've moved the bar.
There also has to be growing discomfort within the Federal Reserve about ignoring the continuing high inflation recorded by the CPI itself, as reflected, for example, in this speech from Federal Reserve Bank of Philadelphia President Charles Plosser:
While the Fed's goal is to achieve stable prices for all goods and services, economists and policymakers sometimes focus on core inflation, as it has been thought to give a better indication of underlying inflation pressures since it excludes food and energy prices, which can be quite volatile. The idea is that over time, core and headline inflation rates should, on average, be similar, as increases in the volatile components are offset by later decreases and vice versa. I am concerned, however, that over the past 10 years headline inflation has exceeded core inflation by about 40 to 50 basis points. This has been true of both the consumer price index (CPI) and the broader personal consumption expenditure (PCE) price index. Indeed, headline inflation rates have exceeded core inflation rates in 8 of the last 10 years for both the CPI and the PCE price measures on an annual average basis. While I would like to believe that, over time, these two rates should be converging on average, I am concerned that the data are suggesting that core inflation rates may not be as indicative of underlying or trend inflation as we might have thought. My conclusion is that we need to look at both measures of inflation– headline and core– since it is not clear which one is telling us the most about underlying inflationary pressures. As a consequence, I was very much in favor of the FOMC's beginning to include forecasts of both core and headline inflation in our quarterly forecasts.
Here's a graph illustrating Plosser's concern. Historically, the CPI and CPI ex food and energy recorded a similar average long-run trend, with the latter having the benefit of not being kicked around by strictly short-run crop failures or oil supply disruptions. But the changes in energy prices over the last five years have not come from temporary supply disruptions, but instead reflect longer run developments. Likewise, rising food prices are due not so much to poor harvests as to our misguided ethanol policy, which unfortunately again I see no sign of going away.
Tim Duy also notes that the Fed could not be cheered by the modest trend upward in the rate of inflation that consumers tell University of Michigan surveyors they are expecting for the next 12 months, now up to 3.7%.



Median expected price change next 12 months, from the University of Michigan Survey of Consumers. Data source: FRED and
WSJ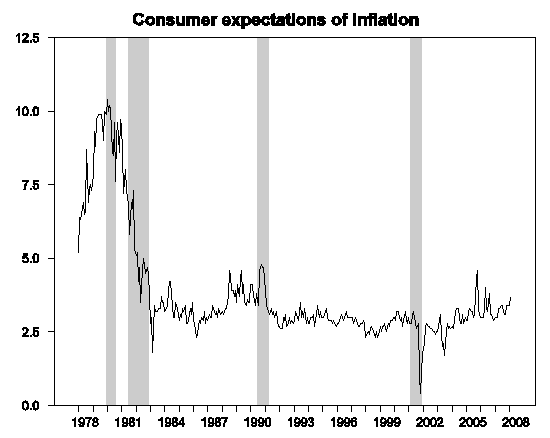 Then there's the little item of those raging commodity prices over the last 30 days.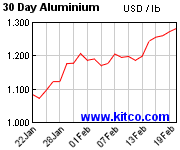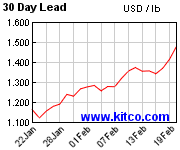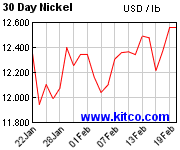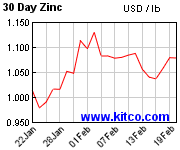 [pictures courtesy of Kitco]
The one remaining key indicator that is yet to become unmoored is the expected inflation rate implied by the gap between the yield on 10-year nominal Treasury bonds and that on bonds whose coupon and principal are indexed to rise with the CPI. This gap has remained quite stable over the last year.
Greg Ip, Felix Salmon and Greg Mankiw are concerned that the 5-year TIPS-nominal spread has fallen relative to the 10 year, implying that the 5-year forward inflation rate (the so-called 5-year, 5-year break-even rate) has gone up. But I agree with the analysis by knzn and particularly
Francisco Torralba that the facts are much less alarming than Ip's graph might have seemed to suggest, and that the basic impression of stability of longer term expectations that one brings away from the graph I've plotted above is the correct one.
Notwithstanding, I doubt the Fed will feel free to continue charging ahead with rate cuts on the basis of the comfort provided by this one remaining favorable indicator. Yes, the Fed will still cut another 25 basis points at its March 18 meeting. And more likely 50, if we get a dreadful employment report for February or more scares like today's Philadelphia Fed survey. But I have to believe the Fed will be following that path down with great reluctance from this point on.
---
Technorati Tags: macroeconomics,
Federal Reserve,
economics,
inflation