Some good news, some bad, in the economic data released yesterday.
First, the good news. Each of the three indicators that initially turned our Little EconWatcher's face blue last month all took a favorable turn in the numbers just reported. The first of these is the Institute of Supply Management's manufacturing PMI reading. This index is based on a survey of managers, with a value below 50 indicating that more plants are reporting declines rather than increases in categories such as new orders, production, and employment. The December value for this index was initially reported to be 47.7, a fairly reliable indicator that economic growth has at least slowed. But yesterday's release revised the December figure up to 48.4 and put the January index at 50.7, back into growth territory.
ISM Manufacturing PMI, with NBER-dated recessions as shaded regions. Data source: DRI-WEFA through Webstract.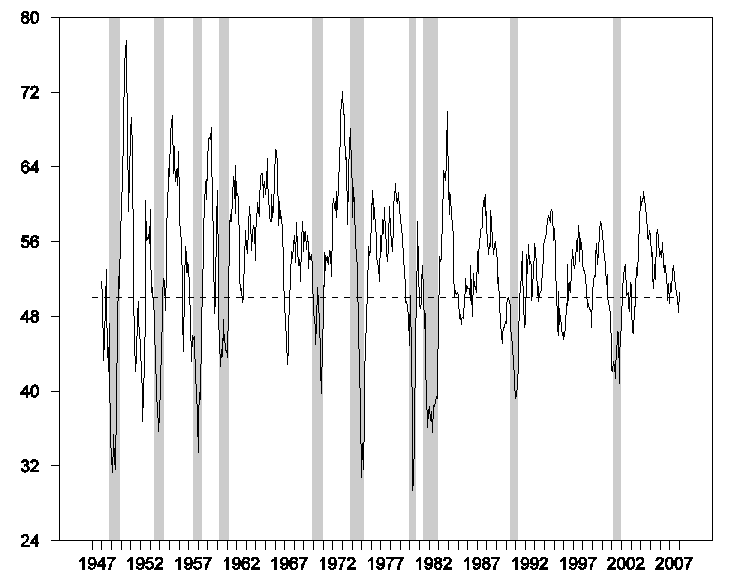 The development that scared me most last month was the spike up in the unemployment rate from 4.7% in November to 5.0% in December. Had we seen the unemployment rate continue to climb at that rate for a few more months, it would have been an almost certain indicator that a recession had started. But the unemployment rate eased back down slightly in January to 4.9%.
Seasonally adjusted civilian unemployment rate, with NBER-dated recessions as shaded regions. Data source: FRED.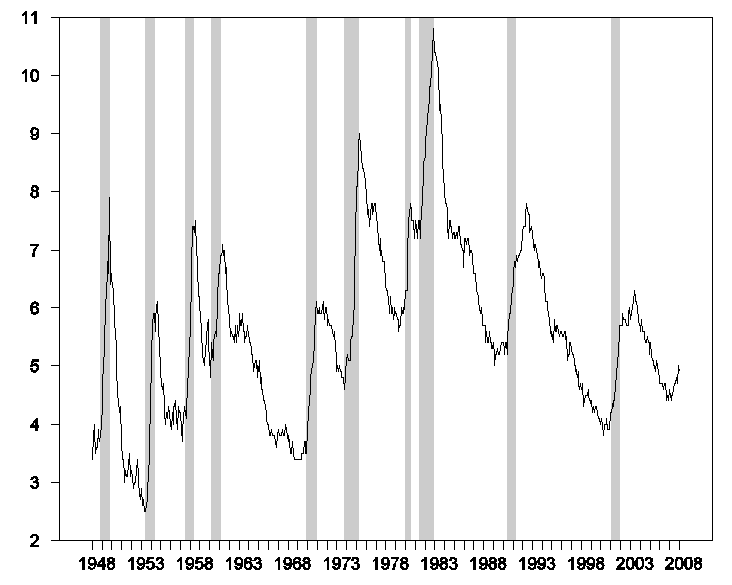 The third key data point that soured me at the beginning of January was the net seasonally adjusted loss of 13,000 private-sector jobs during December that was implied by the establishment survey data released by BLS on January 4. But yesterday the BLS revised those December figures to now show an increase of 54,000 workers on private nonfarm payrolls in December relative to November.
And now for the bad news. The BLS says that private nonfarm payrolls gained only 1,000 jobs in January over December, and when you include their estimate that government-sector employment actually fell by 18,000 workers during January, you get the net employment loss of 17,000 jobs which made all the headlines. I share Dean Baker's skepticism that the loss in government jobs is for real. And the impression from the new BLS employment figures has to be tempered somewhat by the claim from Automatic Data Processing, on the basis of their database of 24 million workers, that seasonally adjusted private nonfarm employment grew by 130,000 workers during January.
The BLS revised its population control factors for their separate household survey of employment, and for this reason their main tables avoid a direct comparison between January and December employment. But Greg Ip and Kelly Evans waded far enough into the report to notice that when the BLS attempted to apply the same population control procedures to both months, it seems to imply a net gain in employment of 635,000 workers between December and January. If that's accurate, then pigs surely fly. But the ADM and household estimates have to stir a healthy dose of mud into whatever crystal-clear inference you might have thought to draw from the headline BLS establishment number by itself.
Also noteworthy in yesterday's BLS release is the downward revision in the nonfarm payroll numbers for most of the other months in 2007 (apart from December) that resulted from their benchmark revisions. On balance, employment growth is now reported to have been lower by 191,000 jobs during 2007 than was implied by the estimates that were released January 4. The one-hour drop in average workweek in January is another clearly bearish indicator.
Mark Thoma has a nice survey of different reactions to the latest BLS numbers. For my money, the best take is from Paul Krugman:
A better guide is probably to average the last 2 or 3 months. What you get then is that employment is still growing, but v-e-r-y s-l-o-w-l-y. In particular, employment growth is well short of what's necessary to keep up with population growth.
Average growth of seasonally adjusted total nonfarm payrolls over current and previous two months, in thousands of jobs gained per month, with NBER-dated recessions as shaded regions. Data source: FRED.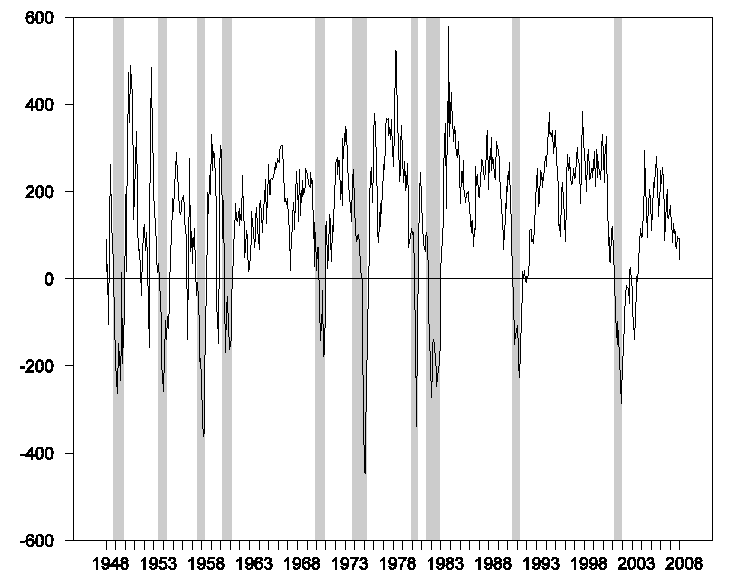 ---
Technorati Tags: macroeconomics,
employment,
economics,
PMI,
ISM,
recession