Inspection of the Administration's approaches to previous policy issues provides some instructive precedents [0], [1], [2], [3], [4] to consider in light of current policy challenges in the financial markets.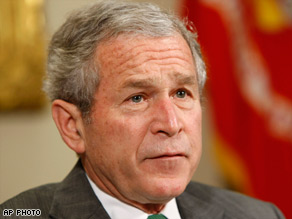 George W. Bush at a March 17 speech on the economy. Source: "Bush: Economy facing 'challenging times'," CNN.com.
From my perspective, the common element is over-weighting ideology at the expense of expertise. The import of this observation can be gleaned from this article in Sunday's NYT:
…

On the one hand, Treasury officials say they are convinced that today's regulatory system is fragmented and out of date. The Treasury secretary, Henry M. Paulson Jr., has talked about the need to re-examine capital requirements for financial institutions.
But both President Bush and Mr. Paulson, a former chief executive of Goldman Sachs, remain philosophically opposed to restrictions and requirements that might hamper economic activity.
"What we're looking at in our blueprint is how to make our regulatory structure more efficient, less duplicative and more in line with today's capital markets," said David G. Nason, assistant secretary of the Treasury for financial institutions. "We've got five regulatory agencies focused on depository institutions. We're one of the only countries in the world that separates securities from futures, and our regulation of insurance is solely at the state level."
But the entire discussion took a stunning turn last week after the Federal Reserve abruptly stepped in to prevent a systemic collapse on Wall Street.
Invoking its authority as the nation's lender of last resort, the Fed offered a $30 billion credit line to JPMorgan Chase to help it take over Bear Stearns, which was about to go bankrupt. Even more significant, the central bank announced that it would lend hundreds of billions of dollars to big investment banks through its "discount window" — an emergency loan program that had been reserved strictly for commercial banks.
The Fed's involvement highlighted what many experts see as the growing disparity in regulation between Wall Street firms and commercial banks. Commercial banks submit to greater regulation, partly in exchange for the privilege of being able to borrow from the Fed's discount window.
But starting last week, Wall Street firms were getting the same protection without subjecting themselves to additional scrutiny. Some administration officials said they had little choice but to regulate Wall Street firms more closely.
"In the short term, it would make sense to have one umbrella regulatory agency," said Sheila C. Bair, chairwoman of the Federal Deposit Insurance Corporation, which insures deposits at banks and thrift institutions and is one of several federal bank regulatory agencies. "Capital levels are the most important tool we have at the F.D.I.C., and investment banks have lower capital levels than commercial banks."
Among Democrats and Republicans alike, there is a growing consensus that the existing regulatory structure, involving more than half a dozen federal agencies as well state offices, were not equipped to prevent a host of questionable practices that aggravated the housing and mortgage meltdowns.
The practices included abusive loans by independent mortgage brokers; risky and opaque transactions by financial institutions; credit-rating decisions that turned out to be wildly optimistic; and the underwriting of loans by mortgage brokers that were often based on fraudulent or inaccurate information.
Just as the Sept. 11, 2001, attacks highlighted deep cracks between the nation's intelligence and law enforcement agencies, the credit and housing crises are forcing policy makers to scrutinize cracks between oversight agencies that aggressive mortgage brokers and deal makers were able to exploit.
"To anyone who looks at the regulatory system over the last few months, it is quite clear that the financial world has evolved dramatically and the regulatory system has not caught up," said Senator Charles E. Schumer, the Democrat of New York who is the chairman of the Joint Economic Committee.
Even though Mr. Schumer represents Wall Street's home state and has many financial supporters on Wall Street, he said he was on "the same page" as Mr. Frank and was preparing his own plan for regulatory overhaul. Senator Christopher J. Dodd, the Democrat of Connecticut who is the chairman of the Senate Banking Committee, is preparing legislation as well.
But Mr. Schumer cautioned that the Bush administration's deregulatory mind-set could make it difficult to do anything this year.
The Treasury Department is hoping to unveil its own blueprint for regulatory overhaul in the next few weeks. Last week, Mr. Paulson acknowledged that the problems exposed by the housing crisis were diffuse and complex and could not be solved with a single action. But he suggested that he did not want to take any drastic regulatory steps while the financial markets remained in turmoil.
"The objective here is to get the balance right," Mr. Paulson said last week. "Regulation needs to catch up with innovation and help restore investor confidence but not go so far as to create new problems, make our markets less efficient or cut off credit to those who need it."
Given the philosophical differences about the value of government regulations, some experts were skeptical that Congress and the Bush administration would agree on more than cosmetic changes.
"There is a political will, but I'm not certain that it can overcome longstanding philosophic objections to dealing with free markets in a crisis environment," said Arthur Levitt Jr., the chairman of the Securities and Exchange Commission under President Bill Clinton.
Note that Sheila Bair has had a different perspective on regulation from the rest of the Administration (see my discussion in this post); in some sense I'd say she's the exception that proves the rule. But some sort of government intervention is probably necessary. From Bloomberg on Sunday:
March 24 (Bloomberg) — Forget lower interest rates. For the Federal Reserve to keep the financial markets from imploding it needs to buy troubled mortgage bonds from banks and securities firms, say the world's biggest Treasury investors.
Even after cutting rates by 3 percentage points since September, expanding the range of securities it accepts as collateral for loans and giving dealers access to its discount window, the Fed has been unable to promote confidence. The difference between what the government and banks pay for three- month loans doubled in the past month to 2.03 percentage points.
The only tool left may be for the Fed to help facilitate a Resolution Trust Corp.-type agency that would buy bonds backed by home loans, said Bill Gross, manager of the world's biggest bond fund at Pacific Investment Management Co. While purchasing the some of the $6 trillion mortgage securities outstanding would take problem debt off the balance sheets of banks and alleviate the cause of the credit crunch, it would put taxpayers at risk.
"An RTC-type structure is interesting, and it may not be that much of a burden on taxpayers in the long run," said Barr Segal, a managing director at Los Angeles-based TCW Group Inc. who helps oversee $80 billion in fixed-income assets. The government should purchase the mortgages and reissue "debt that's backed by the U.S. government and there you go, you've unclogged the drain," he said.

…
"Something like that would be very helpful, but the Fed was not designed to and shouldn't assume a huge amount of risk on behalf of taxpayers," said Alan Blinder, a Princeton University professor and former vice chairman of the central bank. "That should come out of the elected parts of the government, which means the administration and Congress."
Resisting Calls
President George W. Bush and Treasury Secretary Henry Paulson have resisted calls urging the use of government funds or guarantees to stem a record amount of mortgage foreclosures, the root of the financial crisis, preferring that the markets resolve the trouble. Bush said March 15 he wanted to avoid "bad policy decisions" that would do more harm than good.
President George H.W. Bush, the current president's father, signed the 1989 law which created the RTC to dispose of the assets of insolvent savings and loans banks. From 1986 through 1995, 1,043 savings banks with over $500 billion in assets failed, costing taxpayers $75.6 billion, according to a Federal Deposit Insurance Corp. analysis.

…
I have a couple of observations.
First, methinks the Administration protests too much, about "not bailing out" investors. If it were indeed the case that it was against further contingent liabilities being taken on by the Federal government, it would not have allowed the increase in the maximum size of conforming loans guaranteed by the Government Sponsored Enterprises, Fannie Mae and Freddie Mac. Nor would capital requirements have been reduced at exactly the time that a higher capital cushion would be in order, given the state of the economy. In addition, it would have taken some sort of action to limit the borrowing taking place through the Federal Home Loan Banks (see [5], [6] for discussion of recent actions, and implications).
So to me, it seems that the Administration is engaged upon a delaying action, and hoping to unload this problem upon the next Administration (an understandable, albeit less than fully public-minded, impulse). Meanwhile, it maintains the best "optics" in terms of making it look like it's not taking on risks to government funds in order to help out financial firms. In so doing, it's allowing an even bigger build-up of contingent liabilities, surreptitiously. But by virtue of being less transparent, it threatens to present a bigger, and more unpleasant, surprise for future policymakers (of either party).
Second, whatever the reasons for the Administration's actions, I think a very serious problem is that, by virtue of the Administration's abdication of a substantive role (see Hubbard's comment on this point), the Fed is lending to entitites it does not regulate. The Bear Stearns collapse might have been seen as a case where the Fed had to undertake unconventional actions, because of the rapidity of developments. But with the Administration providing an uncompromising stance, who will step in the next episode? If it's the Fed again, then Blinder's critique will take on heightened relevance.
As I have stated before (to some opprobrium), I think realistically, some commitment of government resources will be necessary to work through this crisis. I'm not against the Fed's initiatives on an ad hoc basis, and I'm not necessarily against loosening the reins on the GSEs and the FHLBs. But I am against hypocrisy, especially hypocrisy which might delay transparently devised policies that would minimize the eventual costs of any bailout.
I freely admit I may be wrong — that I might be too cynical. It might be that the Administration's assessment of the current economic situation is not as pessimistic as mine. Consequently the Administration's call for limited action can then be seen as the corollary of a perceived modest slowdown and manageable financial crisis ("containable" seems to have dropped out of the lexicon). In that case, one might reasonbly hew to this line:
…
… The establishment of credit stability and ample capital through the Federal Reserve System and the demonstration of the confidence of the Administration by undertaking tax reduction with the cooperation of both political parties, speak more than words.
The next practical step is the organizing and coordinating of a forward movement of business through the revival of construction activities, the stimulation of exports and of other legitimate business expansion, especially to take such action in concert with the use of our new powers to assist agriculture. Fortunately, the sound sense, the capacity and readiness for cooperation of our business leaders and governmental agencies give assurance of action.
These words are those of Herbert Hoover, November 15, 1929.