At the risk of losing my audience by skipping over the the record housing price decline, and an outsized drop in the consumer confidence index, I'm going to focus on what seems like old news (but is being reflected in current news on the dollar), namely the OECD reduction in growth forecasts for the G-7 economies. The euro area economy is slated to do better than the US economy in 2008H1, but that's not saying much.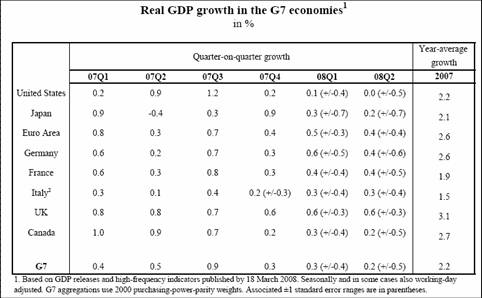 Source: OECD, "What is the economic outlook for OECD countries? An interim assessment," Paris, 20th March 2008.

Note that the q/q growth rates are not annualized. From the report:
…short-term forecasting models taking on board the most recent dataflow, including the decline in payroll employment witnessed in the first two months of 2008, suggest that the US economy is now essentially moving sideways, if not contracting outright. It may be premature to declare a recession, but with the pace of activity so far below potential, economic slack is widening rapidly. In the euro area, the deceleration has been less abrupt but growth is set to remain on the low side of potential for some time, even though exports so far seem to hold up well in the face of euro appreciation. In Japan, quarterly national accounts are volatile and prone to large revisions, but overall the pace of underlying growth seems to be softening as well, notwithstanding the support from still buoyant neighbouring Asian economies.
With the credit woes deeper in (but not restricted to) the United States, and growth slowing more rapidly in the latter, it's no surprise that both forecasts and market based indicators suggest more rapid decreases in policy rates in the U.S. than in the euro area.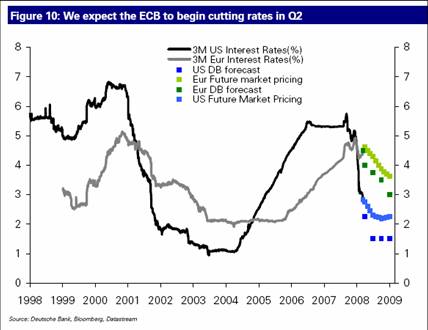 Figure 10 from Deutsche Bank, Exchange Rate Perspectives, March 20, 2008.
To the extent that a key determinant of the euro/dollar rate is the US-euro area interest differential, one should expect further weakness in the dollar (also noted in this post). Narrowing of the differential only begins in 2008H2. Whether this will be sufficient to overcome the negative effects of decreasing attractiveness of dollar denominated assets associated with their deteriorating default characteristics, or (potentially) the depegging of GCC currencies [1], [2] remains to be seen.
Technorati Tags: href="http://www.technorati.com/tags/euro">euro,
dollar,
OECD, exchange rates,
interest rates.