The decoupling thesis seems to be ever more out of fashion. From the FT today:
Mr Strauss-Kahn, a former French finance minister, rubbished the notion that the credit crisis was largely a US problem. "The crisis is global," he said. "The so-called decoupling theory is totally misleading." Developing countries such as China and India would be affected.

…

The IMF would this week revise down its global economic forecasts to below the current private and official consensus, he said. "The forecasts we are going to release in a few days are not very optimistic. The downside risks we underlined in the last world economic outlook have materialised."
We'll have to wait until Wednesday to see the new WEO forecasts, but until then, it might be instructive to see the progression of forecasts from the Economist's polls of forecasters. First, the United States: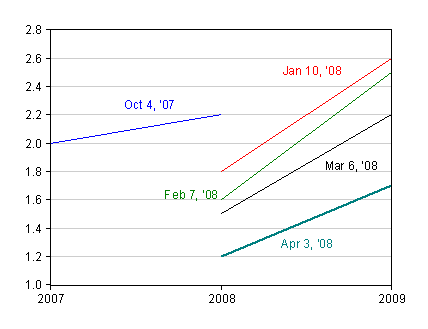 Figure 1:
Mean forecasts of US growth y/y from
Economist
poll of forecasters.
Notice the big drop in forecasts for 2008 going from October to January. What's interesting is the continuous decline in forecasts over time. In April's forecast, the drop is substantial both for 2008 and 2009, suggesting a prolonged slowdown.
The 2008 forecasts for the Euro Area shift downward, but from October to April, only by 0.5 percentage points. This contrasts with the 1 percentage point decline for US forecasts.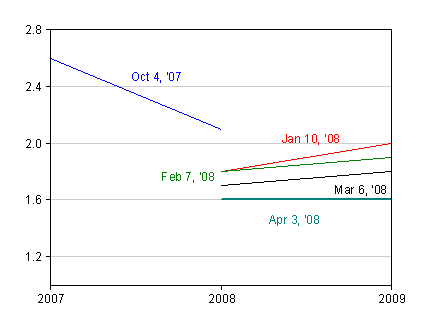 Figure 2:
Mean forecasts of Euro Area growth y/y from
Economist
poll of forecasters.
The United Kingdom forecasts exhibit an even smaller decline in 2008 growth rates. However, the 2009 bounceback projected in January has evaporated.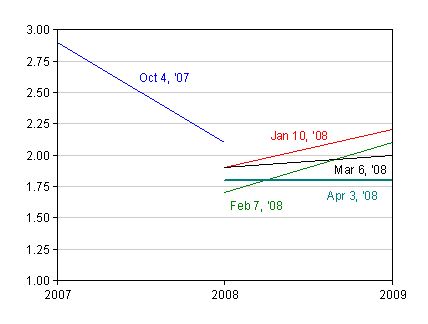 Figure 3:
Mean forecasts of UK growth y/y from
Economist
poll of forecasters.
Finally, Japan's forecasted growth rates for 2008 have fallen 0.6 percentage points. As in other cases, the slump is now forecasted to be more prolonged than it was in January.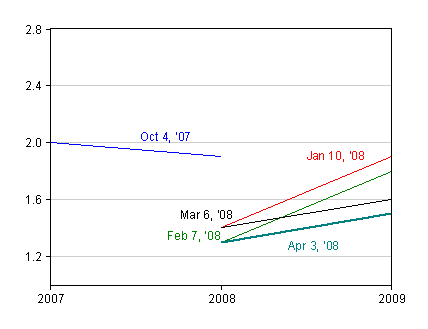 Figure 4:
Mean forecasts of Japan growth y/y from
Economist
poll of forecasters.
One source of comfort — no negative growth forecasted! (Of course, the low values for each forecast of y/y growth are now consistent with two quarters of negative growth.)