How should a well-fed American react when some of the world's poorest citizens in Haiti and Bangladesh riot over the rising price of food?
Street market in Port-au-Prince, Haiti, April 12, 2008. Source: StarPhoenix.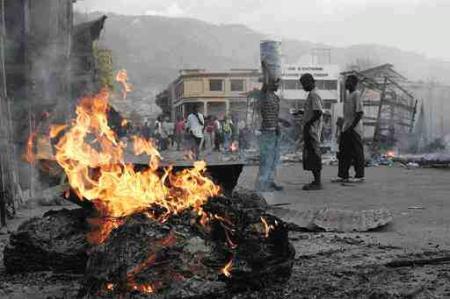 To be sure, there are many factors influencing food prices. But to me it's natural to begin with the element that represents a deliberate policy choice on the part of the United States. I refer to America's decision to divert a significant part of our agricultural production for purposes of creating a fuel additive for motor vehicles. USDA Chief Economist Joseph Glauber predicts that 4.1 billion bushels, or 31% of the entire U.S. corn crop, will be devoted to ethanol production for the 2008/09 season.
On one level, the question of whether it is morally acceptable for us to divert the food that might have fed the hungry for purposes of driving our SUVs is no different from similar questions about any of a number of other details of how the well-off dispose of their wealth. But I'm thinking that the profound inefficiencies associated with this particular disposition of resources may also be relevant. As a result of ethanol subsidies and mandates, the dollar value of what we ourselves throw away in order to produce fuel in this fashion could be 50% greater than the value of the fuel itself. In other words, we could have more food for the Haitians, more fuel for us, and still have something left over for your other favorite cause, if we were simply to use our existing resources more wisely.
We have adopted this policy not because we want to drive our cars, but because our elected officials perceive a greater reward from generating a windfall for American farmers.
But the food price increases are now biting ordinary Americans as well. That could make those political calculations change, and may present be an opportunity for a nimble politician to demonstrate a bit of real leadership. I notice, for example, that although Senator Barack Obama (D-IL) was among those who voted in favor of the monstrous 2005 Energy Bill that began these mandates, Hillary Clinton (D-NY) and John McCain (R-AZ) were among the 26 senators who bravely voted against it.
Wouldn't it be refreshing if one of them actually tried to make this a campaign issue?
---
Technorati Tags: ethanol,
ethanol mandates,
food prices