Here's the basis for the $945 billion estimate of losses to the financial sector. From the IMF's Global Financial Stability Report: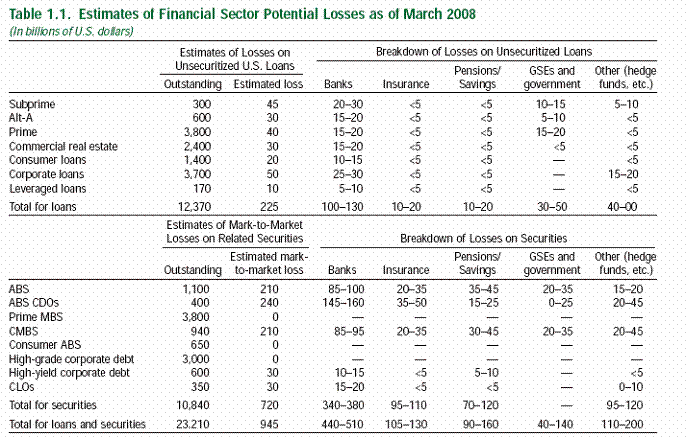 Table 1.1 from IMF's Global Financial Stability Report.
Here's the text:

Broader credit deterioration, a weakening economy, and
falling credit prices combine into a substantial hit to the
capital of systemically important financial institutions.
We estimate aggregate potential writedowns
and losses to be approximately $945 billion as of March 2008 (see Table 1.1 and Annex 1.2
for details on the methodology).23,24 Aggregate
losses are on the order of $565 billion for U.S.
residential loans (nonprime and prime) and
securities and $240 billion on commercial real
estate securities. Corporate loans (including leveraged
loans and CLOs) are expected to account
for $120 billion of losses, while consumer loan
losses are likely to add an additional $20 billion.
Most of the nonprime losses are in securities
rather than unsecuritized loans. At present, pricing
of mortgage-related derivative indices suggests
higher losses than do calculations based on
projected cash fl ows for the underlying loans.25
Since the October 2007 GFSR, ABS prices have
declined between 20 and 40 percent across
tranches rated AAA to BBB–, and as much as
50 percent on ABS collateralized debt obligations
(ABS CDOs) across all ratings categories, refl ecting
market expectations of future deterioration
and illiquidity of the underlying securities. (See
Boxes 2.2 to 2.4 in Chapter 2 for more details
on the fragility of structured product ratings
and their valuations.) Market prices continue to
adjust on an almost daily basis, pressuring markto-
market losses higher.
Potential credit losses would lower aggregate
capital adequacy ratios at U.S. banks by about 250 basis points, and at European banks
by about 150 basis points. Although aggregate
ratios remain above regulatory norms, a bottomup
analysis of losses indicates that some banks
and regions will suffer disproportionately. Put
in historical perspective, this crisis is of similar
dollar magnitude to the Japanese banking crisis
of the 1990s (Figure 1.12).

Uncertainty over the size and spread of losses further
elevates systemic risks, even as markets price in losses
for banks and insurance companies.
Global banks are likely to shoulder roughly
half of aggregate potential losses, totaling from $440 billion to $510 billion, with insurance
companies, pension funds, money market funds,
hedge funds, and other institutional investors
accounting for the balance.27 Banks generally
hold the most senior tranches of these products,
but even these are now likely to incur substantial
losses (see Boxes 2.3 and 2.4 in Chapter 2).
European banks hold sizable amounts of complex
structured products such as MBS and CDOs
and have been exposed to losses related to structured
investment vehicles (SIVs) (Figure 1.13).