New bankruptcies as consumer sentiment deteriorates.
Market Watch reports that the University of Michigan/Reuters index of consumer sentiment fell to 63.2 in April. It's been below the trough reached in the last recession for some time now, and today's number brings it slightly below the lowest value in the previous (1990-91) recession as well. The same survey reports that consumer expectations of inflation for the coming year have increased from 4.3% to 4.8%.
Reuters/Michigan index of consumer sentiment. Data source: FRED and
Market Watch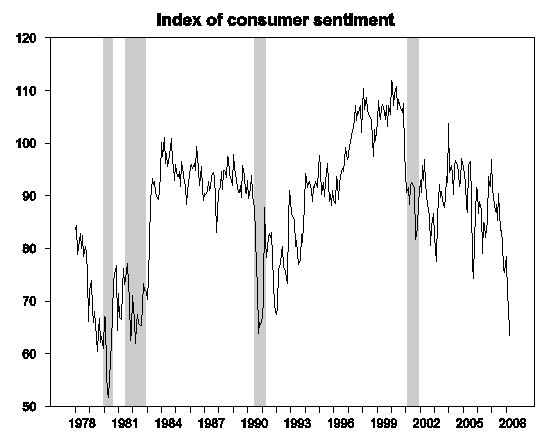 Gasoline prices can't be helping with either of those perceptions– here's how they look in your area at the moment.
Also making the news today is Frontier Airlines:
Hard-pressed by competing airlines in its Denver hub and struggling to deal with the rising cost of jet fuel, Frontier Airlines Holdings Inc. and its subsidiaries have filed for Chapter 11 bankruptcy protection….

Frontier President and Chief Executive Officer Sean Menke … blamed an "unexpected attempt" by First Data Corp., its principal credit card processor, to start withholding "significant proceeds received from the sale of Frontier tickets," which would have hurt the carrier's liquidity.

"We felt that Frontier would be able to withstand the challenges confronting the U.S. airline industry, which include unprecedented and significant increases in the cost of jet fuel and the impact of the credit crisis in the financial markets, without seeking bankruptcy protection," Mr. Menke said. He added that Frontier has continued to perform well and that it has not experienced a decrease in consumer demand.
Today's Wall Street Journal also carried this:
Linens 'n Things Inc., a home-furnishings retailer caught by an increasing debt load and shrinking housing market, is expected to file for Chapter 11 bankruptcy-court protection by Tuesday, several people familiar with the matter said.

A Linens 'n Things filing would mark one of the first major retailers to seek bankruptcy protection in this economic downturn. The New Jersey retailer, which sells home products like towels, bath rugs and kitchen appliances, has about 590 stores in 46 states and employs 17,000 people.
Not the sort of headlines you'd expect to see if you thought we're not in a recession. And not what you'd want to see if you still had hopes of avoiding one.
---
Technorati Tags: macroeconomics,
recession,
gas prices,
credit crunch