The trend is clear: demand is down and complaints are up.
U.S. sales of cars manufactured in North America actually rose 1.3% in April 2008 compared with the same month the previous year.
But sales of domestic light trucks, which includes the once-almighty SUV category, fell 20.6% in April, even more dramatic than the 18.3% drop between March 2007 and March 2008. Combined sales of domestic and imported cars now outnumber light trucks by a significant margin, the first time that's happened since I've been collecting these numbers in 2003.
U.S. gasoline consumption since January has averaged 1% lower than the first four months of 2007, another quite unusual development:
U.S. finished motor gasoline produce supplied, 4-week averages, in thousands of barrels per day. Most recent year in red, previous year in blue. Data source: EIA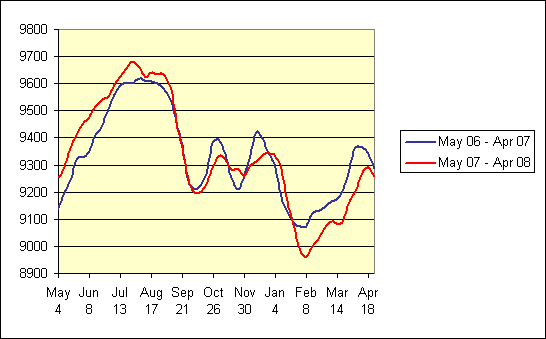 Counts of the number of miles traveled by vehicles on U.S. roads are also turning down.
None of which has been accomplished without significant complaining, to which two of our three presidential candidates have willingly hearkened, proposing a cut in the 18.4-cent-per-gallon federal gasoline tax. Although I could easily imagine circumstances in which an 18 cent cut in gasoline prices would not much affect the quantity demanded, my inference from the evidence above is that at the moment, price relief might well bring a measurable boost to demand. Proponents of a gasoline tax cut have an important task explaining where the necessary additional gasoline supply will come from. I think the most natural expectation is that it would come from increased imports which could be diverted to the U.S. if we offered a higher price, though that of course would mean that much of the intended benefits of the gas tax holiday would in fact go to foreign suppliers.
Such considerations leave me endorsing a statement recently signed by many of my colleagues that reducing the gasoline tax would be an inappropriate and ineffective response to the current situation.
To which advice Hillary Clinton has bravely responded:
I'm not going to put my lot in with economists.
And to which Bryan Caplan even more bravely declares I'll shill for Hillary:
1. The American people want to "do something," and Hillary's tax cut will at least do little harm….

2. If (due to highly inelastic short-run supply) 100% of the tax cut goes to producers, that's not a bad thing. It helps to balance out the long-run disincentive effects of populist measures….

3. The short-run elasticity of supply is probably near-zero for the world market, but Hillary's tax cut affects only the U.S. So as I argued previously, American consumers will at least get a moderate piece of the tax cut.
It's nice to see that we have some economists with a sufficient number of hands to be able to lend one to Clinton and McCain.
---
Technorati Tags: macroeconomics,
autos,
auto+sales,
gasoline demand,
economics,
gas tax,
gas prices,
oil