Two years ago, as part of a multi-year project, Charles Engel and I organized a conference on current account sustainability in major advanced economies.
Lask week, we convened a follow-up conference aimed at updating our knowledge on this subject. Below is the latest read on the U.S. current account to GDP.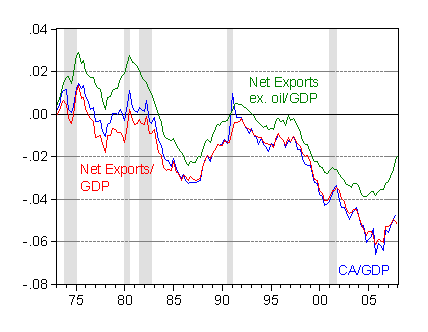 Figure 1: Current account (blue), net exports (red) and net exports ex. oil (green) to GDP ratios. Source: BEA GDP advance release of 30 April 2008.


The agenda for this year's conference is here. Economists from the Federal Reserve System, the European Central Bank, the IMF,
and universities (Harvard, Columbia, Virginia, European University Institute, USC, as well as Wisconsin) participated.


Steve Kamin started off the conference with a paper entitled "How Long Can the Unsustainable U.S. Deficit be Sustained?" (coauthored with Carol Bertaut and
Charles Thomas). In the paper, they investigate the prospects for the U.S. current account
deficit, examining in particular how long it will take for measures of external
debt and debt service to reach levels that could prompt some pullback by global investors (if ever).


They address these issues using projections from a detailed partial-equilibrium
model of the U.S. balance of payments. Under plausible assumptions of income at home and the rest of the world, the current account deficit will resume widening and
the negative NIIP/GDP ratio will continue to expand. However,
even by the year 2020, the negative NIIP/GDP ratio will be no higher than it is in several
industrial economies today, and U.S. net investment income payments will remain very low.


They also examine the issue of sustainability from the perspective of portfolio holdings. They conclude that it
would take many eyars for the U.S. debt to cumulate to a level that would test global investors' willingness to extend financing.
A somewhat different perspective on exactly how the U.S. accounts stand is provided by a paper presented by Frank Warnock. In "Current Account Sustainability and the Relative Reliability of the International Accounts," coauthored with Stephanie Curcuru and Charles Thomas, they conduct a forensic analysis of the gaps in the U.S. international accounts, in order to determine why there is a gap between the cumulated current account and the net international investment position. They conclude that a closer examination of the data suggests that there is little evidence of an exorbitant privilege within asset classes, save for FDI. Hence, current account sustainability assessments predicated on the existence of dark matter might rightly be questioned. While the paper is preliminary and not available online, some related insights can be found in Curcuru, Dvorak and Warnock.
Interestingly, even two years after our first conference, economists are still debating why the U.S. current account spread so widely. Marcel Fratzscher, in a paper coauthored with Roland Straub, argues in Asset Prices and Current Account Fluctuations in G7 Economies that equity price shocks were important.
The paper analyses the effect of equity price shocks on current account positions for 16 industrialized countries in 1974-2007. It presents a DSGE model to derive restrictions for the identification of asset price shocks, and uses a Bayesian VAR with sign restrictions to empirically test for the effect of equity price shocks. Such shocks are found to exert a sizeable effect, with a 10% equity price increase for instance in the United States relative
to the rest of the world worsening the US trade balance by 0.9 percentage points after 16 quarters. Moreover, the response of the trade balance to equity price shocks varies substantially across countries, and this heterogeneity appears to be linked in particular
to the financial market depth and equity home bias of countries.
In contrast, Robert Dekle, in a paper coauthored with Suparna Chakraborty, takes a different tack:
An influential explanation for the recent rise in the U.S. current account deficit is the boom in U.S. productivity. Using a two country general equilibrium model, this paper quantitatively shows that the gap in productivity growth between the U.S. and the "rest of the world" cannot explain the U.S. current account deficits, especially in the 1980s and the 2000s. This is because on a GDP-weighted basis, the "rest of the world" actually had higher productivity growth during these periods, and standard macroeconomic models would predict an outflow of funds from the U.S. to the rest of the world, and a consequent U.S. current account surplus. We show that changes in the degree of global financial integration
can help explain this anomaly in U.S. current account behavior. We find, however, that our model overpredicts the growth in U.S. GDP in the 1990s and 2000s.
Giancarlo Corsetti presented preliminary work conducted with Andre Meier and Gernot Mueller, attempting to answer this question:
What are the macroeconomic effects of shocks to government spending? We analyze this
question by specifically exploring non-linearities in the impact of fiscal shocks on output, private
consumption, the trade balance, and real exchange rates in a sample of OECD countries. We
consider non-linearities due to the size of the shock, the degree of openness and size of the country,
and the initial budgetary conditions. After identifying fiscal shocks as residuals of estimated
spending rules, we use them as explanatory variables in single variable regressions, including
interaction terms. In our finding, in normal times the consumption multiplier is positive, yet
quickly decreasing in the size of expansions; at times of fiscal strain it becomes unambiguously
negative. Correspondingly, the trade balance deteriorates substantially in normal times, consistent
with twin deficits; it shrinks, and turns into a small surplus at times of fiscal strain.
Turning to current account balances more generally, Jaewoo Lee presented a paper coauthored with Hamid Faruqee entitled "Global Dispersion of Current Account: Is the Universe Expanding?". From the introduction:

This paper reexamines the global distribution of current accounts viewed from a longer term
perspective. Using a panel of over one hundred countries that comprise over 95 percent of
world output, the analysis establishes a set of "stylized facts" regarding the individual and
collective behavior of current accounts over the past four decades. In particular, we examine
the dispersion properties of external imbalances and interpret these empirical regularities in
the context of increasing openness in trade and financial flows — often referred to as
"globalization."
The basic point is illustrated by this graph.
Figure 1
from
Faruqee and Lee (2008)
.
They find the following:


The universe of current accounts has been expanding over the past half century.
Based on a variety of measures and methodologies, the global constellation of
external current account positions has markedly widened over time. While dispersion
can vary significantly from year to year — ostensibly in response to large international
shocks, there is a steady, underlying rate of expansion of around 2 to 3 percent per
year.

In other words, in a context where global gross financial flows have grown rapidly,
net flows have also increased (on a sustained basis) to individual countries. And sign
reversals in the current account are occasional, but not frequent. Reflecting this persistence in current account imbalances, countries that have run larger external
imbalances in the past also tend to run subsequent, larger imbalances (of the same
sign), suggesting a extenuation of international lending or borrowing patterns.
However, the underlying, long-run trend toward greater global dispersion suggests
that inertia in current accounts from year to year may be overstated by simple
estimates of persistence.

Rising dispersion is also found to be closely associated with increasing financial
integration of the world economy, among other things. At the same time, individual
current account series and changes in net foreign assets (as ratios to GDP) are found
to be stationary (albeit persistent), indicating that while dispersion is rising, basic
intertemporal resource constraints are not likely violated for individual countries.
Global imbalances though have run well ahead of underlying dispersion trends. The
recent acceleration of external positions in major countries (including the United
States) is clearly not fully accounted for by the trend behavior exhibited by the
universal expansion.

Shang-Jin Wei presented a paper entitled "Current Account Adjustment: Some New Theory and Evidence", coauthored with Jiandong Ju:

This paper aims to provide a theory of current account adjustment that generalizes the textbook version
of the intertemporal approach to current account and places domestic labor market institutions at the
center stage. In general, in response to a shock, an economy adjusts through a combination of a change
in the composition of goods trade (i.e., intra-temporal trade channel) and a change in the current account
(i.e., intertemporal trade channel). The more rigid the labor market, the slower the speed of adjustment
of the current account towards its long-run equilibrium. Three pieces of evidence are provided that
are consistent with the theory.
Turning to the issue of trend increase in services exports, Catherine Mann presented U.S. International Trade in Other Private Services: Do Arm's Length and Intra-Company Trade Differ?, coauthored with Deniz Civril:
US international trade in so-called 'other private services' (OPS) has more than tripled in the last decade to account for 13 percent of total exports and 5 percent of total imports. About 30 percent of this trade is between a US multinational parent and its affiliates abroad (intra-firm trade), about 60 percent is 'arms-length' trade. Using annual panel data across countries and time, this paper examines the likelihood that US trading partners in goods also exchange Other Private Services, whether this probability affects the factors that drive OPS trade, and finally investigates whether the factors that drive OPS trade differ according to multinational ownership and the level of income in the source and destination country. We conclude that selection bias – to trade with the US in goods and services or just goods – does not impact the foreign factors that affect trade in services. The positive factors are economic size, richness, internet connectivity, tertiary FDI assets, and bilateral trade agreements and negative factors of distance, taxes, corruption. The foreign factors that differentially enhance intra-firm trade in OPS as compared to arms-length trade include: a higher share of services in GDP, greater internet connectivity, and more tertiary FDI assets. Factors such as relative wage growth abroad, corruption, distance, and language do not differentially affect intra-firm vs. arms-length trade in OPS. Dividing the sample into relatively richer vs. relatively less rich foreign trading partners suggests that internet connectivity is much more importantly associated with intra-firm trade in OPS for the less rich trading partners.
Finally, Charles Engel presented a paper coauthored with John Rogers, entitled "Expected Consumption Growth from Cross-Country Surveys: Implications for Assessing International Capital Markets". They find that ten year real expected interest rates (as measured by survey data) are not equalized across major economies. And further, consumption growth seems to follow income growth more, and to be less correlated with expected real interest rates, than implied by theory. As they observe, "the empirical findings present a challenge to the building block of many macroeconomic models, in which expected consumption growth is driven by the ex ante real interest rate."
The conference is part of the three year project on "Current Account Sustainability of Major Industrialized Countries", funded by the Center for World Affairs and the Global Economy (WAGE). As part of our activities, we also held another conference on May 1st, entitled "Global Imbalances and the U.S. Dollar: Doing Business in the World Economy". At that conference, Mike Knetter (Dean of the UW Business School), Jeffrey Frankel (Harvard Kennedy School of Government), Michael Melvin (Barclay's Global Investors), and Catherine Mann (Brandeis and Peterson Institute) debated the global outlook.
Technorati Tags: current account,
dollar,
sustainability, net foreign assets,
productivity.