More outstanding analysis from Calculated Risk.
CR gives us this scatter diagram fit to data from 1994:Q1 to 2007:Q4. The horizontal axis plots the inventory of existing homes for sale on the market, while the vertical axis gives the quarterly change in the nominal Case-Shiller National Home Price index. The strong negative correlation in the data is not something we'd expect to see in a frictionless market such as stock prices, in which a change in fundamentals would translate almost instantly in a sharp drop in price to the new equilibrium value, from which further changes in the stock price would be unpredictable. The reason for the gradual and predictable changes we see in house prices is that if a homeowner is mistakenly too hopeful about what their house can sell for, there is no one to arbitrage away the error, and the home just sits on the market unsold until reality finally sinks in.
Thus as the inventory of unsold homes has continued to build, the decline in house prices has been fairly predictable. With the inventory of unsold homes averaging 9.9 months for 2008:Q1, CR predicted a quarterly decline in the Case-Shiller house price index of 3.1%. The actual number released today was a decline of 6.7%. If the 11.2 months of inventory figure for April is repeated in May and June, CR's regression would predict another 4.1% decline in 2008:Q2.
Inventory of unsold existing homes divided by monthly sales. Source: Calculated Risk.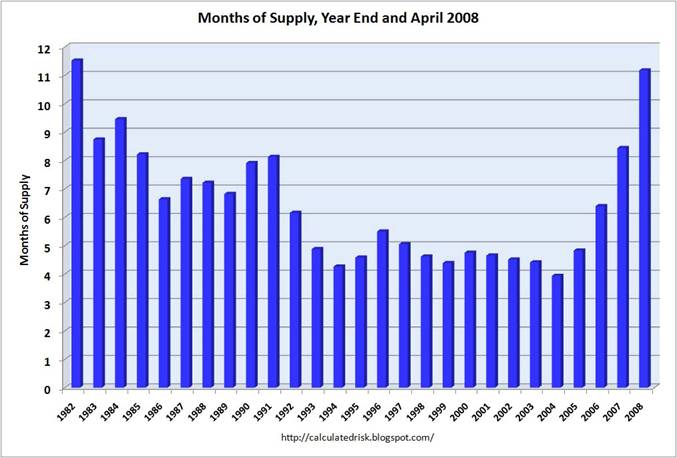 The significance of all this is that the magnitude of subsequent declines in house prices is probably the single most important determinant of how many more homes end up in foreclosure. That in turn will determine how widespread the failures of major financial institutions become.
This has been like watching a train wreck in slow motion.
---
Technorati Tags:
macroeconomics,
housing,
house prices,
Case Shiller price index