The AP describes Lazear's views on the role of biofuels on rising prices thus: "US disputes IMF on food prices".
From the article by Desmond Butler:

WASHINGTON (AP) — The Bush administration is disputing the International Monetary Fund's claim that increased production of biofuels is the biggest factor in rising food prices.


The IMF estimates that the shift of crops out of the food supply to produce biofuels accounts for almost half of the recent increases in the global food prices. Rising food prices have made hunger problems in developing countries even more critical of late.


But the administration's chairman of the Council of Economic Advisers, Edward Lazear, says that biofuel production has played a small part.


The United States has mandated increased production of ethanol from corn to reduce oil consumption.


Lazear told a congressional hearing Wednesday that ethanol production accounts for only about 1.2 percent of increases in food prices over the last year.

Figure 1 below depicts in part the issue. Food prices have shot up over the past few years. The IMF index has risen by 36% in log terms (43.4%).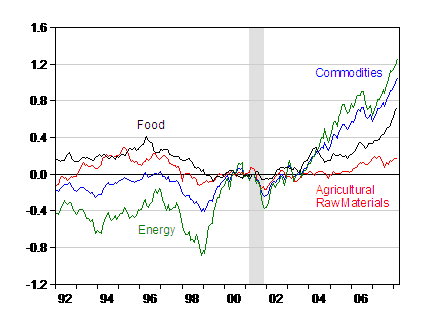 Figure 1:
Log commodity prices (blue), agricultural raw materials (red), energy (green) and food (black), 2000=1. NBER defined recession shaded gray. Source: IMF,
International Financial Statistics
, accessed May 18, 2008.
However, I wonder about how much a dispute there is. Here is what CEA Chair Lazear stated in his testimony before the Senate Foreign Relations Committee:
Among the existing stock of biofuels, ethanol is by far the largest type, with corn-based ethanol accounting for a substantial portion of total ethanol. Corn-based ethanol production has increased dramatically over the past year with approximately 25% of total U.S. corn production dedicated to ethanol production in 2007.8 We estimate that the increase in U.S. corn-based ethanol production accounts for approximately 7.5 percentage points of the 37% increase in corn prices over the past twelve months The increase in corn-based ethanol production in the rest of the world this past year accounts for as much as an additional 5.5 percentage points. Combining the increases in ethanol production in the U.S. and the rest of the world, we estimate that the total global increase in corn-based ethanol production accounts for about 13 percentage points of the 37% increase in corn prices, or about one-third of the increase in corn prices over the past year.



Let me put this in context. Because corn only represents a small fraction of the IMF Global Food Index, we estimate that the increase in total corn-based ethanol production has pushed up global food prices by about 1.2 percentage points of the 43% increase in global food prices, or about 3% of the increase over the past twelve months. This estimate includes the indirect effects of the increase in corn-based ethanol production, through crop substitution and spillover effects into other food products. Looking back to 2005 and 2006, the effect of increased ethanol production on food prices during these two years taken together has been of similar magnitude.



Based on the Department of Energy's Energy Information Administration (EIA) actual and projected ethanol production levels, it appears that the Renewable Fuels Standard has not yet been a contributing factor in increased ethanol production. At current corn and gasoline prices, ethanol production is profitable regardless of the mandate. Indeed, EIA's projection for ethanol production in 2008 suggests that we will supply 9.15 billion gallons of ethanol (including imports), which is above the 9 billion gallon mandate. The mandate may become a factor in the future, if corn prices increase relative to gasoline prices and ethanol is no longer a cost competitive alternative to gasoline. Other policies – ethanol subsidies and tariffs – may also be factors contributing to increased production of ethanol in the U.S. We have not quantified the size of those policies' effects.

Now consider the IMF's view as espoused in Finance and Development:
Why are commodity prices so high? Besides commodity-specific factors—such as geopolitical risks, weather conditions, and crop infestations—the current price boom is driven by demand and supply forces that reinforce each other amid supportive financial conditions.



First, emerging economies have driven demand for various commodities—a trend that is likely to continue. Annual increases in the global consumption of major commodity groups during 2001–07 were larger than they had been during the 1980s and 1990s (see Chart 2). And although buoyant global growth was a key contributor, it was reinforced by a combination of strong per capita income growth, rapid industrialization, higher commodity intensity of growth, and rapid population growth in some major emerging economies (notably China, India, and in the Middle East). All of these factors have contributed to the rapid pace at which demand has grown in recent years.





Source: Thomas Helbling, Valerie Mercer-Blackman, and Kevin Cheng, "Riding a Wave," Finance and Development 45(1) (March 2008).



…



Second, biofuels have boosted the demand for specific food crops. Another prominent factor underpinning the difference between this boom and earlier ones is the role of biofuels. High oil prices in recent years, together with generous policy support in the United States and the European Union, have led to a surge in the use of biofuels as a supplement to transportation fuels, particularly in the advanced economies. In 2005, the United States overtook Brazil as the world's largest producer of ethanol, which accounts for over 80 percent of global biofuel use. The European Union is the largest biodiesel producer.



Biofuel production is seriously affecting food markets—20–50 percent of feedstocks, especially corn and rapeseed, in major producing countries are being diverted from food to biofuels—but not affecting petroleum product markets, in which biofuels constitute less than 1½ percent of transportation fuel supply. This is creating a price asymmetry—which means that the prices of petroleum products are determining retail prices of biofuels, and growth of biofuels, in turn, is strongly affecting feedstock prices (ethanol, in particular, is produced from corn and sugar).



Ambitious mandates about biofuel use in the United States and the European Union imply that diverting crops toward biofuel production will continue for at least another five years, when new technology in the form of second-generation biofuel feedstocks—made of inedible vegetable matter that does not compete for the land and the water resources used for major food crops—become commercially viable. In the United States, the 2007 Energy Bill almost quintuples the biofuels target, to 35 billion gallons by 2022, and the European Union has mandated that 10 percent of transportation fuels must use biofuels by 2020. This means that upward pressures on prices of some of the major food crops will continue for some time.



Third, slow supply responses have amplified price pressures. …

Hence, the IMF does not say that biofuels are the most important factor in driving up food prices (at least, in this document — it might elsewhere). Similarly, the World Bank also argues that biofuels is a major, but not the major, driver [1].
Still, according to the AP article, nearly a half of the last year's runup is due to biofuels. How the CEA assessment and the World Bank's assessment can be reconciled?
First, note that many developed countries, in addition to the United States, also subsidize and/or mandate biofuels production. This point is highlighted by CEA's estimate that 7.5 ppts of corn price increase over the last year is associated with US ethanol-related policies, and 5.5 ppts with rest-of-world ethanol-related policies (i.e., 13 ppts out of 37 ppts). While this may result in only a small impact on the world food price, it will likely have a very big impact on those who simultaneously devote a large portion of their food budget to corn products, and are not able to easily shift to substitutes. And for these groups, the import of the graph below is being fully felt.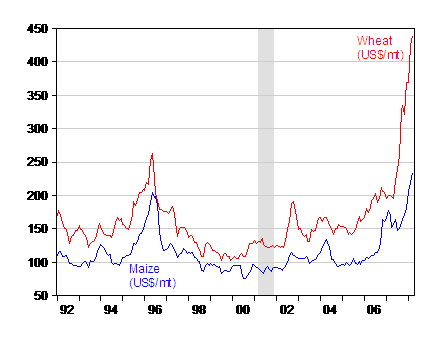 Figure 2:
Corn prices (blue), wheat prices (red), energy (green) at Gulf ports, in US$ per metric ton. NBER defined recession shaded gray. Source: IMF,
International Financial Statistics
, accessed May 19, 2008.
Second, even Lazear's testimony acknowledges that over the long term, subsidies will tend to have a substantial impact on food prices. This CRS report cites two studies to that effect. On this there seems, from my reading, to be little dispute.