The newest version of the Chinn-Ito financial openness index (earlier discussed here), extending up to 2006, has just been posted. Here's the series for Argentina and for Venezuela.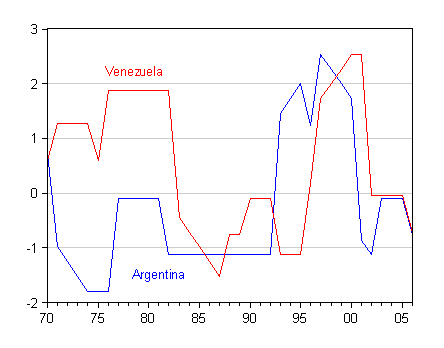 Figure 1: Chinn-Ito financial openness index for Argentina (blue) and Venezuela (red). Higher values indicate greater openness. Source: Chinn-Ito index (2008) (Excel).
The index is available here as an Excel file. Documentation is here [pdf]. More extensive discussion of the uses of the index is contained in this paper [pdf]. (Note that these items are also available on Hiro Ito's website as well.)
Note: This is a de jure, not de facto, measure of financial openness.
Technorati Tags: href="http://www.technorati.com/tags/capital+controls">capital controls,
financial openness,
globalization,
financial liberalization.