A potentially huge story from the New York Times.
Saudi Arabia, the world's biggest oil exporter, is planning to increase its output next month by about a half-million barrels a day, according to analysts and oil traders who have been briefed by Saudi officials.

The increase could bring Saudi output to a production level of 10 million barrels a day, which, if sustained, would be the kingdom's highest ever. The move was seen as a sign that the Saudis are becoming increasingly nervous about both the political and economic effect of high oil prices. In recent weeks, soaring fuel costs have incited demonstrations and protests from Italy to Indonesia.

Saudi Arabia is currently pumping 9.45 million barrels a day, which is an increase of about 300,000 barrels from last month.
Data source: 2004 through March 2008: EIA; April-June: numbers discussed in NYT article.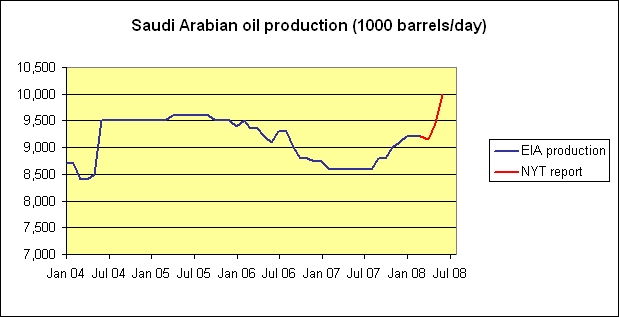 The loss of 1 million barrels per day of Saudi production between 2005 and 2007 was one of the single most important factors in the run-up in world oil prices over the last several years. One theory of the cause behind the earlier drop was that the Saudis' magnificent Ghawar oil field had entered into decline, in response to which the Saudis made a big increase in drilling effort to develop alternative sources within the kingdom. The Wikipedia Oil Megaprojects database calculates 1 million barrels/day in eventual gross new capacity from Saudi projects scheduled to begin producing this year. The Calgary Herald today reported:
Saudi Arabia will start pumping from its new 500,000 barrel-a-day Khursaniyah field within the next month, a board member of state oil company Saudi Aramco said.
An alternative explanation for the earlier Saudi production cutbacks, discussed in my recent paper on oil prices, is that the decline in the price-elasticity of petroleum demand in recent years could have made lower production levels in the Saudis' economic interest. I attributed the decline in the U.S. elasticity to the very low share to which energy expenditures had fallen relative to GDP by 1998, but noted that with the recent dramatic increase in prices, that share had risen substantially and we should expect to see a corresponding return in the elasticity to the higher levels seen historically. There is abundant evidence that U.S. consumers are now making significant responses to higher oil prices.
Whatever the explanation, if the Saudis do produce 10 million barrels a day next month, I would expect it to have a significant impact on near-term oil prices.
---
Technorati Tags: oil,
oil prices,
Saudi Arabia,
oil supply,
energy economics,
economics,
OPEC