Barack Obama gave a fine speech at the Democratic National Convention on Thursday. But I'm troubled by what I see as its underlying economic philosophy.
As I listened to the speech by Barack Obama accepting the nomination of the Democratic Party for the U.S. presidency, I felt I was listening to a very gifted orator. I also thought I heard a cash register go ca-ching every time he finished a sentence.
I will eliminate capital gains taxes for the small businesses and the start-ups that will create the high-wage, high-tech jobs of tomorrow.

I will cut taxes– cut taxes– for 95% of all working families. Because in an economy like this, the last thing we should do is raise taxes on the middle-class….

I'll help our auto companies re-tool, so that the fuel-efficient cars of the future are built right here in America.

I'll make it easier for the American people to afford these new cars.

And I'll invest 150 billion dollars over the next decade in affordable, renewable sources of energy– wind power and solar power and the next generation of biofuels….

I'll invest in early childhood education.

I'll recruit an army of new teachers, and pay them higher salaries and give them more support….

Now is the time to finally keep the promise of affordable, accessible health care for every single American. If you have health care, my plan will lower your premiums. If you don't, you'll be able to get the same kind of coverage that members of Congress give themselves….

Now is the time to help families with paid sick days and better family leave….
As the list of things Obama promised to do grew ever longer, I found myself increasingly wondering, What is the underlying understanding of how the economy works that would motivate such a list? All these steps require a commitment of resources. If we are to have more of these things, we must be planning to divert the resources to pay for them from somewhere else. Evidently there is a notion of some kind of existing inefficiency or misallocation of resources– money is currently being spent on things it shouldn't be, and should instead be devoted to objectives on the above list. But how is the bill for all these nice things supposed to be paid?
Fortunately, in his speech Obama anticipated this natural question, and provided the following answer:
Now, many of these plans will cost money, which is why I've laid out how I'll pay for every dime– by closing corporate loopholes and tax havens that don't help America grow. But I will also go through the federal budget, line by line, eliminating programs that no longer work and making the ones we do need work better and cost less– because we cannot meet twenty-first century challenges with a twentieth century bureaucracy.
I'll discuss that second point about government waste in a moment. But here's my understanding of Obama's central thesis– if funds could be diverted from corporate profits into the above wish list, then America would be better off.
According to Table F.102 in the Federal Reserve's Flow of Funds Accounts, domestic nonfarm, nonfinancial corporate profits amounted to $1,037 billion in 2007. A third of that ($310 billion) is currently being paid as corporate profits taxes, and $487 billion is devoted to dividends, which are taxed directly as income of the shareholders. But doesn't that leave $240 billion sitting around doing nothing worthwhile?
Not exactly. Those same institutions also spent $460 billion on net fixed investment in 2007 ($1045 in gross investment minus $585 billion capital consumption allowance), which was financed by a combination of the $240 billion in retained earnings and corporate borrowing. If after-tax corporate profits were lower, the only way to have the same level of investment is with greater corporate borrowing. Recalling Menzie's recent picture on the empirical relation between the growth rates of corporate profits and investment, it seems unlikely that investment spending would remain the same if corporate profits were lower. And if it somehow did happen, I doubt that increased corporate indebtedness is a wise outcome to insist upon.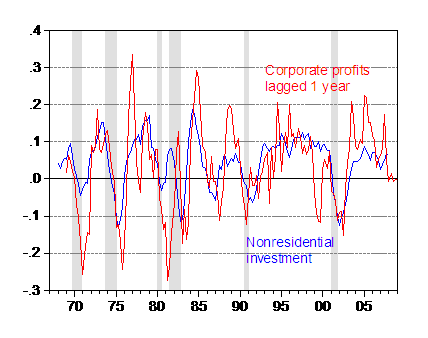 I raise this issue because I regard nonresidential fixed investment as the single most important economic variable that will influence America's future prosperity.
As for the second part of the paragraph above indicating Obama's plans to pay for his proposals, I agree with the senator that there is some waste in the federal budget. However, I'd caution against overstating the magnitude of what we should expect to achieve, and I would urge that any dollars saved be used to reduce the deficit before beginning any new programs.
At the top of my personal list of current expenditures that could be cut would be ethanol and agricultural subsidies.
What's on your list, senator?
---
Technorati Tags: investment,
corporate profits,
deficits,
macroeconomics,
economics