Most of the discussion surrounding the current crisis has focused on the implications for major businesses and their hiring and investment decisions, or households and their employment possibilities, or consumer behavior. One overlooked (or underemphasized) aspect of the issue is the impact on small firms. Fortunately, my former colleague (and coauthor), Rob Fairlie has just published a book that can inform one's thinking on this subject.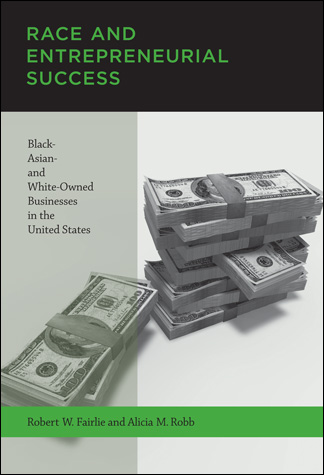 In Race and Entrepreneurial Success:
Black-, Asian-, and White-Owned Businesses in the United States (MIT Press),
Fairlie and coauthor Alicia Robb investigate examine racial disparities in business performance, drawing on a rarely used, restricted-access dataset compiled by the U.S. Census Bureau. They also explore the broader question of why some entrepreneurs are successful and others aren't.
From the introduction:

Estimates from the [Characteristics of Business Owners] CBO [dataset] indicate a strong positive relationship between
startup capital and business outcomes. Firms with higher levels
of startup capital are less likely to close and are more likely to have higher profits and sales and to hire employees. The estimated positive relationship is consistent with the inability of some entrepreneurs to obtain the optimal level of startup capital because of liquidity constraints.

…


Overall, our findings indicate that large racial disparities exist in
business ownership and business outcomes in the United States. There
is also no evidence suggesting that these patterns will disappear in the near future. Our analysis of the confidential and restricted-access CBO reveals several important determinants of success in small business ownership. The analysis focuses on the business and owner characteristics that are likely to be the most important inputs into the firm's production process as suggested by economic theory. In addition to more traditional explanations, such as the owner's education level and access to financial capital, we find evidence suggesting that familybusiness backgrounds are important. In particular, prior work experience in a family business has a positive effect on business outcomes, possibly through the acquisition of specific and general business human capital.



Turning to explanations for disparities in business outcomes, we
find that racial differences in these factors are important. The relative lack of success among black-owned businesses is attributable in part to owners who have less startup capital, disadvantaged family backgrounds, and less education. Conversely, the relative success of Asian American-owned businesses in the United States appears to be mainly due to their relatively high levels of startup capital and owner's education.

How will the financial crisis/credit crunch affect small firms? This question of course is not dealt with in the book, but to the extent that small firms more constrained by the "pecking order"/financing hierarchy for capital [0], they should be hit hardest (i.e., they have the least access to retained earnings, and have to rely most on bank credit as opposed to capital markets). And of course for new firms, startup capital will be even harder to access.
Interestingly, the fact that black-owned firms have the least access to credit currently means that they might be least affected negatively by this aspect of the current crisis. On the other hand, to the extent that these firms also tend to be the least capitalized (the white- and Asian-owned ones are the most), they will still probably suffer the most as the recession sours (yes, I am of the view that the "fundamentals" are not altogether that strong [1]).
One point Fairlie has pointed out to me is that the drop in housing prices (see this post for prospects) is going to be a big hit to entrepreneurship. He observes that home equity represents the largest source of net worth and is often used as collateral or direct equity investment in businesses.
All this is extremely important, given that small firms have been generating jobs on net, in contrast to the rest of the economy. From the ADP National Employment Report [pdf]: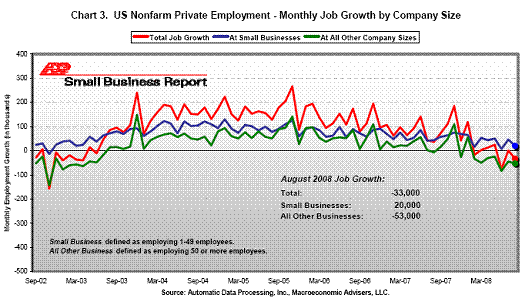 Figure 1:
Chart 7 from
ADP National Employment Report for August 2008
.
For more insight into small business owners current views on prospects, see this.

So, today, I am in (rare) agreement with the President's assessment of what would happen in the absence of some sort of government intervention in the financial system:
The government's top economic experts warn that without immediate action by Congress, America could slip into a financial panic, and a distressing scenario would unfold:



More banks could fail, including some in your community. The stock market would drop even more, which would reduce the value of your retirement account. The value of your home could plummet. Foreclosures would rise dramatically. And if you own a business or a farm, you would find it harder and more expensive to get credit. More businesses would close their doors, and millions of Americans could lose their jobs. Even if you have good credit history, it would be more difficult for you to get the loans you need to buy a car or send your children to college. And ultimately, our country could experience a long and painful recession.

But even if the plan solves the problem of a frozen system of credit, the long term prospects will still be grim, insofar as we face a long period of deleveraging.
parting shot: Here is the TED spread as of today.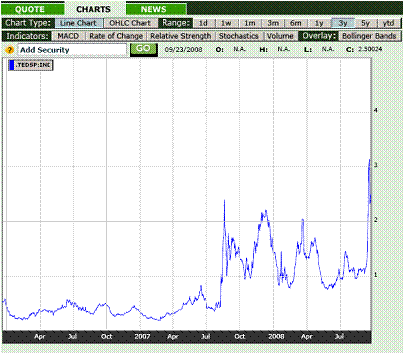 Figure 2:
TED spread, accessed from
Bloomberg
.