One of the points that all the panelists at last Thursday's event sponsored by WAGE ("The Global Economic Crisis") agreed on was how quickly the macroeconomic situation has deteriorated. I wanted to see if one could quantify the rapidity with which growth prospects have changed. Here is one perspective, showing the mean forecast from the October and November WSJ surveys of forecasters.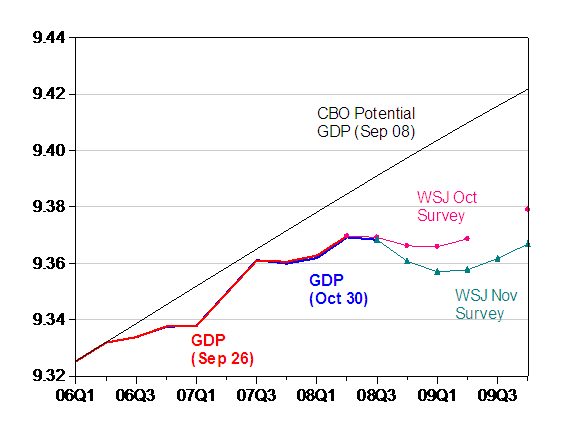 Figure 1: Log real GDP, from 26 Sep 08 final release (red), and from 30 Oct 08 advance release (blue), potential GDP (black), WSJ mean forecast from October survey (pink circle), from November survey (teal triangle). Source: BEA NIPA releases [link], CBO estimates of 9 Sep 08 [xls], WSJ survey of forecasters from October and November [link].
The drop in the economy's forecast trajectory is startling; the November forecast is below the most pessimistic October forecast. Hence, it's no wonder that the urgency associated with a stimulus plan has increased. However, as is often stressed in introductory stats courses (I've got my teaching hat on now), the distribution can be almost as informative as measures of central tendency. In Figure 2, I show the distribution of forecasts for 2009 q4/q4 growth.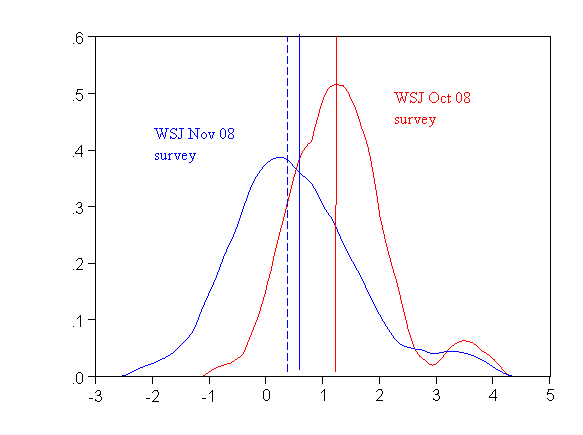 Figure 2: Kernel histograms for forecasts for 2009 q4/q4 from October survey (red) and November survey (blue), using . Vertical axis is density, horizontal axis growth rate in percentage points. Solid vertical lines are means, dashed line is median. Source: WSJ survey of forecasters for October and November [link], and author's calculations.
In early October, there was substantial consensus on what growth would be in 2009. Not only was the distribution fairy symmetric (mean=median=1.3 ppts), it was also fairly tight (std dev = 0.8 ppts). In early November, not only had the distribution spread (std dev = 1.1), it became less symmetric, with the median below the mean (0.40 ppts vs. 0.53 ppts).
Two implications flow from this: (1) the mean forecasts incorporate some very high forecasts (Mark Nielson, of MacroEcon Global Advisors; Joseph Carson of AllianceBernstein; and James F. Smith of Western Carolina University and Parsec Financial Management; at 3.1, 3.3 and 3.4 ppts, respectively, all over one standard deviation above the next highest forecast); (2) hence, the better representation of what forecasters expect is the median forecast, and this implies even slower growth than implied by inspecting averages.
There is one additional aspect of the survey that is interesting; mean and median forecasts imply similar levels of GDP for end-2009 (with an output gap of about 4% in log terms). That is, those projecting faster growth in 2009 also forecast a deeper decline in 08Q4. Hence, there is considerable evidence that forecasters believe in reversion to potential output (although the most pessimistic forecast projects a 7.1 ppts of GDP output gap in 09Q3).