From Bloomberg:
Jan. 22 — China's economy expanded at the slowest pace in seven years as the global recession dragged down exports, increasing pressure for more government spending and lower interest rates to buoy growth.



Gross domestic product grew 6.8 percent in the fourth quarter from a year earlier, after a 9 percent gain in the previous three months, the statistics bureau said in Beijing today. The figure matched the median estimate of 12 economists surveyed by Bloomberg News.

This figure updates that presented in this post from four three months ago.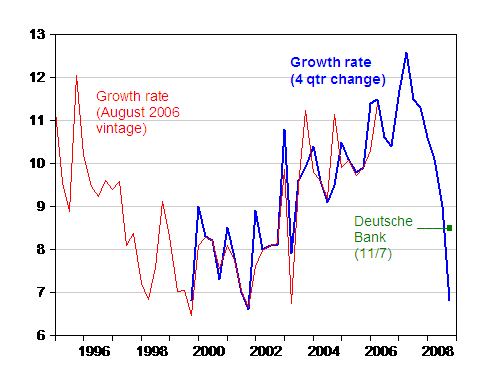 Figure 1:
4 quarter growth rate in real Chinese GDP, latest vintage (blue) and August 2006 vintage (red). Source: CEIC (older vintage),
ADB
, and press accounts (newest vintage).
Note that the actual outcome for Q4 was far below the 11/7 forecast from Deutschebank. This illustrates how far growth prospects in China have deteriorated in just a short two and half months.
[Update 6:50pm Pacific]
Reader Mike notes Roubini's q/q annualized growth rate estimate of near zero, and RGE Monitor cites Citi's estimate of -0.3% growth. I think that these are plausible estimates, but they must be based on data in addition to the official government GDP statistics, because that growth rate is very hard to infer from the seasonally unadjusted GDP numbers, shown below.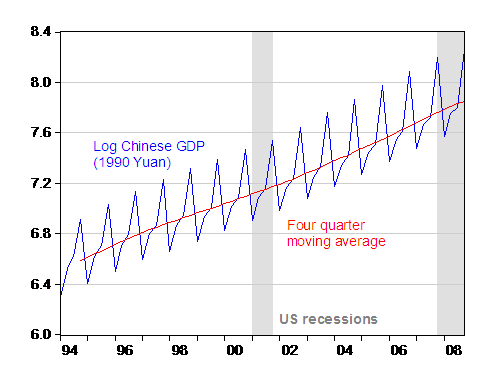 Figure 2:
Log real Chinese GDP, not seasonally adjusted. US NBER-defined recessions shaded gray. Source: CEIC, author's calculations based on ADB data and reported growth rate for 08Q4.
And trust me, running this series through a standard X-12 seasonal adjustment filter doesn't do the trick.