Some thoughts on the extent of the problem and options for solution.
John Hempton (hat tip: Mark Thoma) offered an interesting perspective on the nature of the current problems facing the banking system. Hempton suggested that there are three different numbers we might use when speaking of the problem assets held by the banking system: (1) the loss that banks have already acknowledged or have made loan loss provisions for, which Hempton puts at around 10%; (2) the loss that banks would face if they had to sell the assets right now, which Hempton puts at 50% or $3 to $4 trillion in losses; (3) the loss that would actually be realized if the assets were held to maturity, which Hempton claims would be 25% or $1.5 to $2 trillion in losses.
A question raised by those last two numbers is why buyers are only willing to pay 50 cents for something that's ultimately going to be worth 75. Hempton's explanation is if you buy the assets at 50 cents on the dollar, hold them 5 years over which you'll collect the interest on that portion of the assets that still represent performing loans, and then receive back 75 cents worth of principal, you'd basically be earning a 15% annual rate of return as compensation for the risk of holding these assets.
As I understand it, Hempton is claiming that there is a probability distribution for what the true value of the assets held to maturity is going to be– might be higher than 75 cents, might be lower than 75 cents, but with expected value of 75 cents. There's no question that risk premia at the moment are very high, but a figure of a 15% expected return seems hard to defend. The highest differential we've seen between Baa-rated and Aaa-rated bonds over the last century was 550 basis points in 1932. The spread fell from 340 basis points in December 2008 to 310 this January.
Yield on Baa-rated bond minus yield on Aaa-rated bond, monthly averages, 1919-2009. Data source:
FRED ([1], [2]).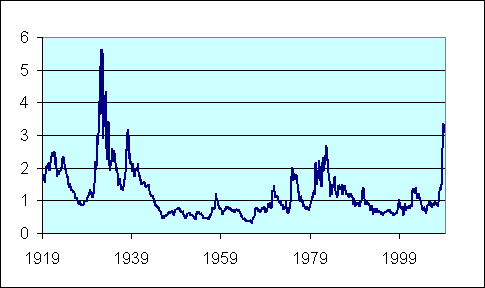 And of course you don't expect to receive 3.1% more on Baa-rated bonds than on Aaa– 3.1% is the most you could earn. There's also a probability of default built into those numbers, so the expected excess return– what I would define as the true risk premium– is necessarily smaller than the yield spread itself.
The recent dramatic values for the TED spread also never exceeded 500 basis points.
TED spread, as obtained from Bloomberg on Feb 17.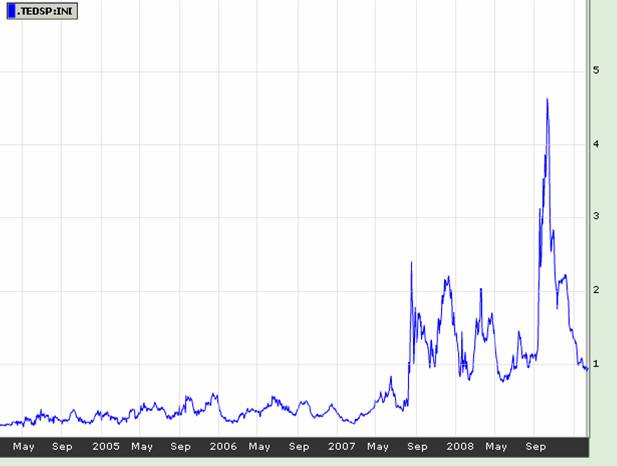 If purchasing bank assets today at 50 cents on the dollar doesn't offer an expected return as high as 15%, then it's hard to claim that the expected value of the assets held to maturity is as high as 75 cents. Either 50 cents is too low a valuation, or 75 cents is too high an expectation.
Although I'm not sure which numbers to use, this seems like exactly the right way to frame the problem. Figure out what are the possible parameters for the capital loss that is to be allocated among the various parties— specifically, a loss that must be borne by some combination of stockholders, creditors, managers, employees, and the taxpayers– and try to reconcile those numbers with the current liquidation value of the banks.
Whatever the true value of the assets may be, the perceived value is low enough to prohibit the financial system from functioning effectively in the current environment. So what can we do about it? Greg Mankiw articulates why he thinks nationalization is the wrong concept:
I certainly do not want the government deciding who deserves credit and who does not, what kind of investments are worthy of financing and what kind are not. That is a big step toward crony capitalism, where the politically connected get the goodies, and economic stagnation awaits the rest of us.

If the government is to intervene in a big way to fix the banking system, "nationalization" is the wrong word because it suggests the wrong endgame. If banks are as insolvent as some analysts claim, then the goal should be a massive reorganization of these financial institutions. Some might call it nationalization, but more accurately it would be a type of bankruptcy procedure.

Bankruptcy could become, in effect, a massive bank recapitalization. Essentially, the equity holders are told, "Go away, you have been zeroed out." The debt holders are told, "Congratulations, you are the new equity holders." Suddenly, these financial organizations have a lot more equity capital and not a shred of debt! And all done without a penny of taxpayer money!
For myself, I don't know the true value of the assets, but I suspect it's well below 90 cents on the dollar. And I fear that the debt-for-equity swap, though attractive in principle, could prove to be quite a destabilizing process. It would be nice if there were a painless way out of this, but I don't see one.
What we need is not a painless resolution of the crisis, but rather a plan that puts the pain behind us.
---
Technorati Tags: macroeconomics,
economics,
bailouts,
interest rates,
credit crunch