Just a quick post to highlight the OECD's recent forecast [0] for the US (-7.2% SAAR decline in 2009Q1), and e-forecasting's latest take (6.8% SAAR decline in 2009M03).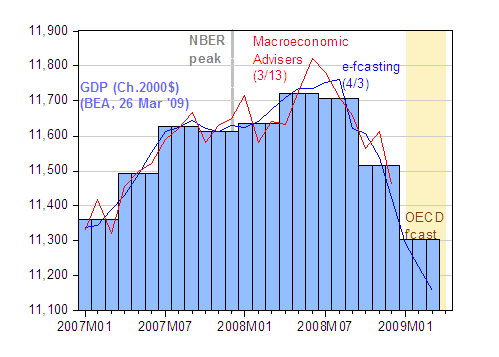 Figure 1: Real GDP from BEA (blue bars), and Macroeconomic Advisers 3/13 (red), e-forecasting 4/3 (blue). Tan shaded area indicates OECD 3/31 forecast for 2009Q1. Source: BEA, GDP release of 26 March 2009; Macroeconomic Advisers [xls], e-forecasting, OECD, and NBER.

Note that forecasted GDP (in the tan shaded area) is above the level implied by e-forecasting. E-forecasting's estimate is that GDP will be down by 9.9% (SAAR) in 2009Q1. If this more dire forecast proves accurate (Deutsche Bank predicts -8.0% SAAR), then — as Brad Delong likes to say — we'll need a bigger stimulus package.
See also Calculated Risk's discussion of the employment report: [1], [2], [3].
Side note: for those wanting to hear my take on the G-20 meetings, Minnesota Public Radio had an hour with me on the air yesterday (link here).
Technorati Tags: GDP, macroeconomic advisers,
e-forecasting, OECD, and stimulus package.