The Labor Department reported today that initial claims for unemployment insurance rose by 27,000 in the most recent available week. Although that's a disappointing development, it's still a small enough increase to allow the 4-week average to fall for the second week in a row. Since that declining 4-week average is one of the few encouraging pieces of news in an otherwise discouraging economic landscape, I wanted to take a closer look at just how significant a statistical signal it really sends.
The interest in the 4-week average of new claims for unemployment compensation results from
the observation by Northwestern Professor Robert Gordon that, for each of the last six recessions, once the new claims number began declining from its peak value, the NBER subsequently dated the recovery from that recession as beginning within 8 weeks.
Black line: 4-week average of seasonally adjusted weekly initial claims for unemployment insurance, from Department of Labor via Webstract. Vertical lines: first week of the first month of a business cycle expansion as subsequently dated by the National Bureau of Economic Research.


Here's a close-up of the behavior of the series so far in 2009, with the raw weekly numbers in black and the 4-week average in blue.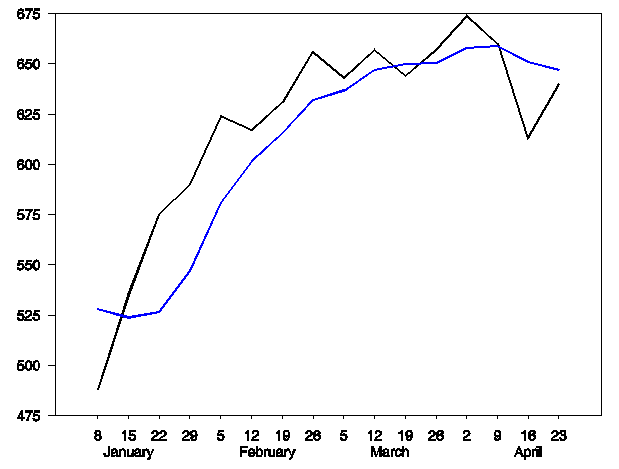 Will the latest downward move prove to be the beginning of a recovery, or will we turn around and head back up to a new high? Let's try to pose this as a statistical question. We're trying to figure out whether the number for the 4-week average that was reported two weeks ago will turn out to be the highest value of this recession. Let st equal 0 if week t turns out to come before the peak value for the recession, and st = 1 if it turns out we're past the peak. Of course we don't know now which is the case, but if t represents a week from one of the previous 6 recessions, we now know enough to assign a value of either 0 or 1 to that week. There are 278 of those earlier observations on st from the recessions of 1970, 1974, 1980, 1982, 1990, and 2001.
The question we'd like to ask statistically is the following. Let's take it as given that we're currently in a recession. Let yt denote the observed two-week percentage change in the 4-week average as of week t. The latest observation is a 1.8% decline, so the most recent value is yt = -1.8. We'd like to calculate the probability that st = 1 if we've seen a 2-week decline in yt as big as 1.8%, that is, we'd like to find the value of

From the definition of a conditional probability, this can be found by dividing the joint probability by the marginal probability:

We know the denominator of this fraction by looking at the number of those earlier known recession weeks between 1969 and 2001 for which we observed a 2-week decline in the 4-week average for new claims of 1.8% or more. It turns out that there were 46 weeks as favorable or more so as our most recently available datum:

To get the numerator, we count how many of those favorable declines proved to be the real McCoy. The answer is, 17 of them were part of the eventual trip down and out of the recession, but the other 29 represented temporary relief on a path that would eventually reach a new peak before turning down. The answer to our original question of interest, namely what's the probability we're on our way out of the recession this time, is thus given by

In other words, there's a 63% chance that new unemployment claims will go back above the recent peak before they finally start to head back down.
The key factor that leads to this pessimistic assessment is the fact that we're conditioning on the knowledge that our current week t is definitely still part of the recession, which seems to me an entirely safe bet. Given that we are in a recession, that fact in itself would lead you to expect to see new unemployment claims go up rather than down (as they did in the vast majority of our 278-week earlier sample). The fact that we've seen the average decline for a couple of weeks now isn't enough to get you to change your mind, if you're convinced that as of right now the recession has not yet ended.
What would it take to get you to change your mind? A 2-week drop of more than 3.4% would bring the probability above 0.5. But you'd never get much more confident than that based on this line of reasoning, because you'd always be factoring in the possibility that we'd see a repeat of the big drops in new unemployment claims that were observed in the 1970 and 1974 recessions, which ended up being followed by even bigger increases. The fact we're conditioning on for these calculations– that we're currently in a recession– is by itself a strong enough predictor that future unemployment claims are headed higher that you'd never be completely sure the peak is behind us based on just a few weeks worth of decline.
In other words, you'd never be completely persuaded, if the only variable you had to look at was a few weeks of unemployment claims, that a recession is just about to end.
The latest number might turn out to be a green shoot, no question. But the odds are two to one that it's just another dead twig.
---
Technorati Tags: employment,
recession,
macroeconomics,
economics