A couple of disappointments in this week's data.
New claims for unemployment insurance have peaked just before the end of each of the last half-dozen recessions.
Black line: 4-week average of seasonally adjusted weekly initial claims for unemployment insurance, from Department of Labor via Webstract. Shaded areas correspond to recessions as judged by the National Bureau of Economic Research.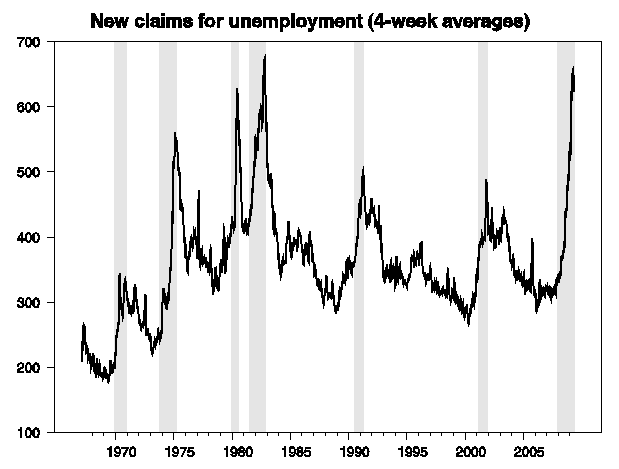 Unfortunately, the Labor Department reported today that seasonally adjusted new claims for unemployment insurance rose by 32,000 for the most recent available week. That bumps the 4-week average to 630,000, up 6,000 from its value the previous week, though the average is still below its peak of 659,000 reported April 9. That the downward trajectory will resume next week is far from clear.
Black line: seasonally adjusted weekly new claims for unemployment insurance from January 1 through May 14, 2009. Blue line: 4-week average.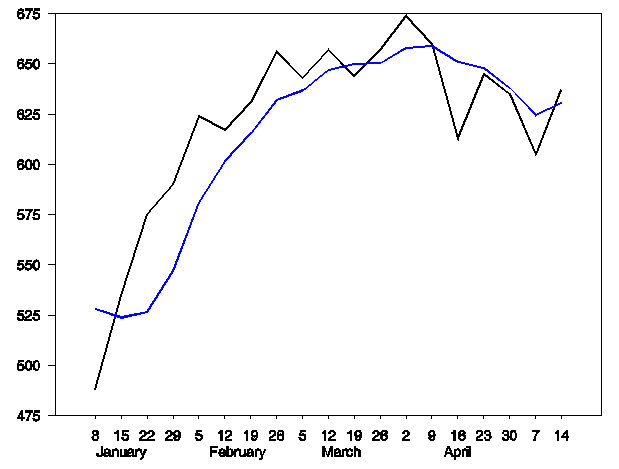 We also received the news yesterday that monthly sales for retail and food services fell 0.4% in April, the second consecutive monthly drop. That, too, is a disappointment for those who are waiting for increased consumption spending to lift us out of recession.
---
Technorati Tags: employment,
recession,
macroeconomics,
economics