There's been a lot of breast beating over the fact that the Administration underestimated the severity of the downturn. From this has come a lot of confused argument — sometimes not internally consistent — over whether this invalidates the usefulness of the stimulus package, whether the stimulus worsened the economic outlook, etc. I'll dispense with the clearly economically illogical arguments and try to tease out what is the "surprise" element in the 2009Q1 figures, and from that infer how much worse the economy was relative to what private sector forecasters predicted, conditional upon the passage of the ARRA.
(This is a slightly different observation that since essentially none of the stimulus packages expenditures occurred within the first quarter [0], it's disingenous to argue the stimulus won't work based upon data that extends to only four months after the bill's passage).
First, define "surprise" as the deviation of the ex post value of X from the ex ante value:
Xt – ε(Xt | Ω t-1)
Notice the information set Ωt-1 does not include information that arrives between date t-1 and date t. Further note, I've used ε to denote subjective rather than mathematical expectations. If subjective expectations equal mathematical expectations, then one is using the rational expectations hypothesis, so that forecast errors are i.i.d. The rational expectations hypothesis is not an uncontroversial assumption (for instance, the efficient markets hypothesis is a joint hypothesis combining a particular asset pricing model and rational expectations), but for the sake of exposition, I'll use it here.
Xt – E(Xt | Ω t-1)
Now, let X be GDP. There is an additional complication that the data are sampled more frequently than the data are reported, i.e., GDP is quarterly while these expectations are measured by the WSJ at the quasi-monthly frequency. I'll ignore that subtlety as well, as it pertains more to the time series properties of the measured errors, than the surprise element in 2009Q1 GDP.
In order to get a feeling for the information and views roughly contemporaneous with the analysis of ARRA's effects, let's examine measured GDP as of 30 January, and the mean forecast from the WSJ survey of forecasters for early February. The early-February forecast incorporates the data and information used in the Administration's forecast — actually a little more, since their data set ended in January (see this discussion of the Troika forecasting process here). Crucially, by this time, it was pretty well acknowledged that some sort of stimulus bill in the $800 billion range would be passed. Now, compare against actual GDP recorded as of the end-June 2009 in the 2009Q1 final release. The difference between the February forecast and the actual reported is the output surprise (relative to early February 2009 data).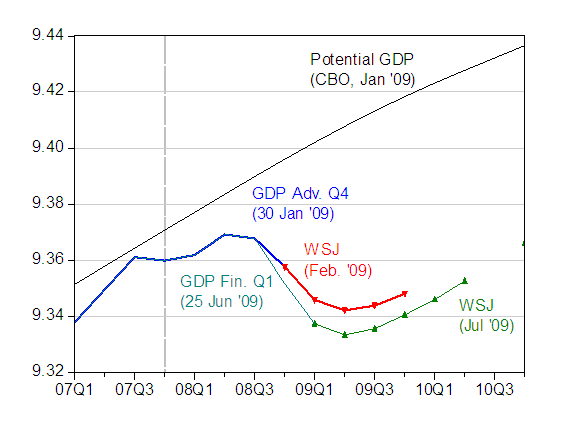 Figure 1: Log real GDP 2008Q4 advance (blue), 2009Q1 final (teal), WSJ mean forecast from February 2009 survey (red inverted triangle) and from Jul 2009 survey (green triangle), all in Ch.2000$ SAAR. Dashed gray line at NBER defined recession start date. Source: BEA GDP releases of 30 Jan 2009 and 25 June 2009, and WSJ February and July surveys, and NBER.
The gap between actual and expected was 0.85 ppts (calculated as a log difference). In other words, GDP turned out to be lower by nearly one percentage point than expectations conditioning on the passage of the stimulus bill. That is a quantification of how much worse the economy was (in GDP terms) than anticipated, according to private sector forecasters. (This means that individuals who ascribe the worse-than-expected performance of the economy to the stimulus package cannot look to the ex post GDP realizations for support for their arguments.)
In growth rate terms, the mean forecast from the early-February WSJ forecast was for -4.7% SAAR growth (q/q calculated in log differences), while the actual outcome was -5.7% (4.6% and 5.5% in base period terms).
Because the entire predicted trajectory for the economy is (approximately) shifted down, 2009Q2 output is roughly the same level below what was anticipated based on February data — that is 0.88 ppts (log terms).
One can do a slightly more formal analysis to see how nonfarm payroll employment is affected by this "news". Run a regression of first log difference of nonfarm payroll employment on current and 3 lags of log first differenced GDP.
Δ(nfp t) = -0.002 + 0.323 Δ y t + 0.201 Δ y t-1 + 0.152 Δ y t-2 + 0.171 Δ y t-3 + ut (equation 1)
Adj-R2 = 0.74, SER = 0.0026, Mean Dep.Var. = 0.0043, DW = 0.90, Sample = 68q1-08q4
Then use this to dynamically forecast out-of-sample using the WSJ mean February forecast for 2009Q1 and 2009Q2. The resulting actual (blue) and implied (red) are depicted in Figure 2 below.

Figure 2: Nonfarm payroll employment, seasonally adjusted, in thousands (blue), and out of sample dynamic forecasted NFP using WSJ February mean forecast for GDP, and equation (1) (see text). Thick gray lines denote plus/minus 2 standard error bounds. Dashed gray line at NBER defined recession start date. Tan shaded area denotes forecast period. Source: BEA, Employment Situation, June release, NBER, and author's calculations.

The point forecasts suggest that 1.16 million of the average 2009Q1 NFP level is associated with the lower than anticipated GDP, and similarly 1.74 million of the average 2009Q2 level. Since there is estimation error involved in relating NFP to GDP, I've included the forecast plus 2 standard errors and minus 2 standard errors (which is bigger than the plus/minus 2 standard error bands often depicted in VAR analyses). The actual employment level is below that which can be explained by estimation error.
One critique (of many possible) is that the estimated link between GDP and employment is over-stated as it includes data from the late-1960s and 1970's. In order to address this concern, I re-estimate equation (1) using data conforming to the period of the "Great Moderation", i.e., 1985Q1-08Q4, and to the analogous dynamic forecast for 2009Q1-Q2. This results in a 1.2 million gap instead of a 1.7 for 2009Q2.
I don't claim that this is the only way of conducting the analysis, and looking at counterfactuals. But doing all this has been fairly straightforward and (I hope) transparent to anybody with some small knowledge of macroeconomics and econometrics, and a willingness to think a little. Hence, I hope we can move beyond using forecasts based on early-January data, compare against outcomes realized today, and declare this or that policy ineffective. Please.
For a survey of the recent missives on the stimulus package, and the advisability of a new one, see the Economist's Free Exchange.
Technorati Tags: GDP, American Recovery and Revinvestment Act, surprise, news, rational expectations,
output+gap, nonfarm payroll employment, and stimuluspackage.