GDP Forecasts
The WSJ August survey indicates a resumption of growth in Q3. What was perhaps a bit surprising was the bump up in the Q3 q/q SAAR growth from about 1 percent to 2.4 percent. The out-quarters were little changed. These forecasts imply the following trajectory for GDP.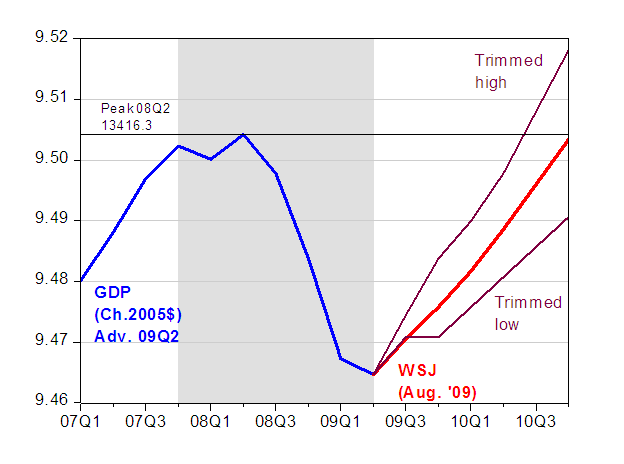 Figure 1: Log GDP (blue), mean WSJ forecast (red), and trimmed high (maroon) and trimmed low (maroon) forecasts, based on 2009-10 growth rates. Trimming removed the top 4 and bottom 4 forecasts out of 51 responses. NBER defined recession dates shaded gray, assuming recession end is 2009Q2. Source: BEA advance 2009Q2 release, WSJ August survey, NBER, and author's calculations.
I've included the top forecasts (based on 2009-10 growth) and bottom forecasts, trimmed (that is, leaving the top four and bottom four forecasts out).
Some of the consistently (and inexplicably) high forecasters have dropped out of the August survey (e.g., James Smith) [1], so I think this rebound is quite remarkable. Even so, GDP will reattain the 2008Q2 peak under the (trimmed) high between 2010Q2 and Q3, and will only reattain the peak under the WSJ mean forecast after 2010Q4.
Potential GDP and Output Gap Forecasts
Since potential GDP estimates in Chained 2005$ have not yet been published by CBO, it's not possible to say what the output gap will be.
The IMF has recently presented an analysis of the future of potential GDP, in the US Article IV supporting analyses [pdf]. They work through how potential is likely to evolve, given the lower investment rate (due in part to constrained financing), as well as other factors (demographics, etc.), and compare against the OECD estimates (discussed in this post). Here's their assessment of the potential growth and the output gap: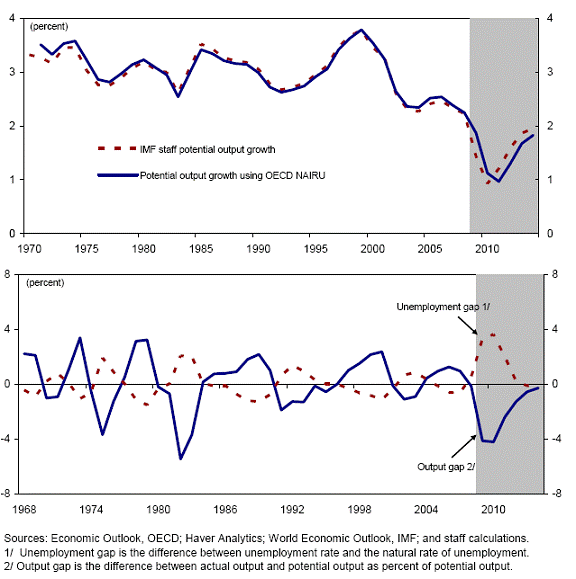 Excerpt from Figure 4. United States: Decomposing Potential Output Growth, in
Natalia Barrera, Marcello Estevão, and Geoffrey Keim, "U.S. Potential Growth in the Aftermath of the Crisis." Source: IMF, "United States: Selected Issues," IMF Country Report No. 09/229 (July 2009).
One notable feature of these calculations is that the estimated output gap is smaller than the CBO estimate, around -4 percentage points of GDP, rather than the CBO estimate of approximately -6 percentage points [2], and the OECD (annual) estimate of -4.9 [3]. Readers can compare to statistical approaches in earlier posts [4] [5].
Debt-to-GDP Forecasts
Given anxieties about the trajectory of the debt to GDP ratio, the IMF analysis using stochastic simulation and the historical correlation between the primary surplus, debt, and output gap is particularly salient. While the staff estimate predicts a debt to GDP ratio approaching 100 percent 2019, the econometrics suggest something much less alarming.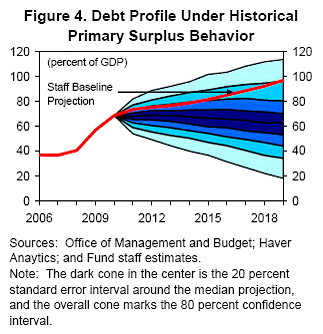 Figure 4 from Oya Celasun and Geoffrey Keim, "The U.S. Federal Debt Outlook: A Stochastic Simulation Approach." Source: IMF, "United States: Selected Issues," IMF Country Report No. 09/229 (July 2009).
Implied Multipliers
By the way, Professor Mulligan has asked if the CEA's estimated effects of the ARRA imply fiscal policy multipliers of "20 or 50 or something like that".
I don't know how he got that number, but here is what I wrote in my August 1st post.:
Here's a way to think about what the impact of ARRA has been on 2009Q2 growth. About $60 billion of stimulus funds had been expended by end-June, of which a large portion is in the form of tax rebates. The price deflator is about 10% higher in 2009Q2 than in 2005, so $60 billion translates to about 54.5 billion 2005$. This is a cumulative figure, while 2009Q2 SAAR GDP was 12892 billion, or 3223 billion Ch.2005$ at quarterly rate. If the multiplier is 0.5 (keeping in mind a large chunk of these funds are tax rebates), then growth was about 3 percentage points higher (q/q SAAR) than would have otherwise occurred; I think this is how Josh Bivens arrived at the conclusion that GDP growth would have been 3% lower in the absence of the ARRA.
Since Dr. Romer indicated that the amount spent (see footnote 4), based on Recovery.com and IRS data we are not privy to, was about $100 billion by end-June (rather than the $60 billion I used), then the multiplier required to get to the percentage point impacts on SAAR q/q GDP she indicated is even smaller than I assumed.
For previous installments in the multiplier debate, see: [6] [7] [8] [9] [10] [11] [12]
Technorati Tags: GDP, recession,
debt, potential GDP,
output gap,
multiplier
.