I was happy and surprised to see that the nominal
S&P/Case-Shiller seasonally adjusted Home Price Index rose by 0.75% in June for a composite of 20 U.S. metropolitan areas.
Inflation- and seasonally-adjusted S&P/Case-Shiller Home Price Index for San Diego (red) and 10 major metropolitan areas (black). Calculated as seasonally adjusted Case-Shiller index multiplied by the ratio of the July 2009 CPI to that for the indicated date.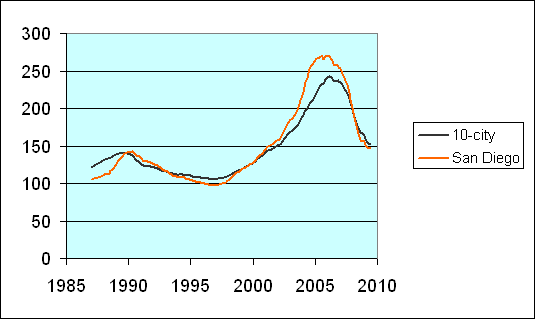 Let me explain first why I was surprised. I am expecting the unemployment rate to rise further, and feared that this plus the existing inventory of unsold homes would continue to put downward pressure on home prices.
Let me explain second why I see the increase in house prices as a favorable development. The key problem facing the financial sector has been the loss in the market value of securities constructed from U.S. home mortgages that may not be paid back. Falling home prices are a critical determinant of default rates, which in turn will ultimately determine how much those securities are really worth. If home prices have stopped their decline, a huge burden has been lifted from many financial institutions.
WSJ Real Time Economics reports that Patrick Newport and Ian Morris read this as a very favorable development. But I'm always keenly interested to hear Calculated Risk's take on the news:
This isn't like 2005 when it was almost certain that prices would fall, and fall sharply. Now we are much closer to the bottom than to the top in prices (for some metrics, see House Prices: Real Prices, Price-to-Rent, and Price-to-Income). In some areas prices have probably already hit bottom– like some non-bubble areas, and some bubble areas with significant foreclosure activity.

But I think many areas, especially the mid-to-high priced bubble areas, there will be further price declines. I'm not as certain as I was in 2005, but I think these price declines will drag down the Case-Shiller indexes– and I don't think the price bottom is in.

I do not have a crystal ball, but …

It seems there are many more foreclosures coming. Some of this depends on the success of the modification programs, but the Q2 MBA delinquency report shows a growing number of homeowners in the problem pipeline. And the Fitch report yesterday suggests few of these delinquent homeowners will cure.

That seems to mean rising foreclosures, and more distressed inventory. The MBA Chief Economist Jay Brinkmann thinks foreclosures will peak at the end of 2010. Historically prices bottom about the same time as foreclosure activity peaks….

I could be wrong– this isn't as certain as in 2005– but I don't think house prices have bottomed. If I'm proven wrong, I'll be the first to admit it.
My experience has been that when CR and the conventional wisdom see things differently, he's right and the rest of us are wrong. But I think we agree on this much: the uptick in the Cash-Shiller indices was a surprise, and, if it holds, very good news.